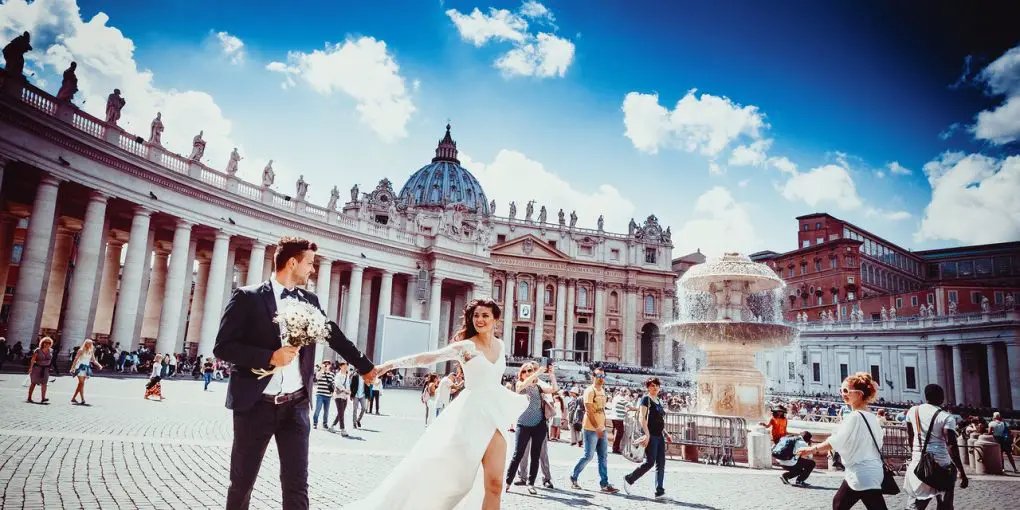 5 Wedding Dress Trends That Are Coming Up
Disclaimer: There are affiliate links in this post. At no cost to you, I get commissions for purchases made through links in this post.
If you're planning your wedding for 2022, you're in luck. Some fantastic wedding dress trends are coming, and we're here to show you what they are. According to Vogue, 2022 is set to have over 2.6 million weddings in the U.S.—a 40-year-high—which means many couples are curious about wedding trends and ideas for their milestone day.
From sleek and simple gowns to elaborate and over-the-top designs, there is something for everyone in bridal fashion. Keep reading to learn more about the five hottest trends for 2022 weddings.
1. Sleek and Simple Gowns
If you love the idea of a fuss-free wedding dress, you'll be pleased to know that sleek and simple gowns are set to be one of the biggest trends of 2022. These dresses are perfect for minimalist brides. These dresses will allow you to focus on what's essential on your big day: celebrating your love for each other.
Some unique gown designs include:
-A-line
-Sheath
-Mermaid
-Column
These sleek and simple gowns are perfect for the minimalist bride who wants to focus on celebrating her love for her partner.
2. Over-The-Top Designs
If you're looking to make a significant impact on your wedding day, consider one of these over-the-top trends:
Voluminous Sleeves: Oversized, billowing sleeves were all over the runways for 2022. This dramatic silhouette is perfect for making a statement, whether opting for long opera gloves or showing some skin with a plunging neckline.
Dramatic Trains: These are not your average wedding dress trains. Designers took things to the next level with floor-sweeping capes, detachable overskirts, and dramatic ruffles. These trains deliver for brides who want all eyes on them as they make their grand entrance.
Bold Colors: While white will always be a classic choice, more and more brides opt for bolder hues on their big day. From Pantone's Color of the Year 2022 to eye-catching jewel tones, there are plenty of options for those looking to make a colorful statement.
3. Statement Sleeves
If you want to make a statement on your wedding day, wear a dress with some serious sleeves. They can be long and billowy, short and puffed, or adorned with delicate lace. However you wear them, they'll turn heads.
Sleeves are one of the most famous trends, so it's no surprise they'll continue to be popular in 2022. However, if you're looking for a unique dress, look for one with statement sleeves.
4. Bows and Flowers on the Waist
Bows and flowers are a great way to add an extra flair to your wedding dress. However, if you're looking for something a little more unique, try a bow or flower-embellished belt.
Opt for a delicate bow at the waist or small flowers scattered throughout the skirt for a more subtle look. Either way, you'll be sure to turn heads when you walk down the aisle.
5. Unique Materials
Unique fabrics like lace, tulle, and chiffon will continue to dominate the wedding dress market in 2022. Lace is trendy for its timeless elegance and femininity. At the same time, tulle is a more modern choice that adds a touch of whimsy to any wedding dress. Chiffon is also a popular choice for its light and airy feel.
Conclusion
Wedding dress trends come and go, but there are always a few that stand the test of time. If you're looking for a timeless wedding dress, seek one with a classic silhouette and simple details. Try experimenting with different fabrics, textures, and embellishments for something more unique.