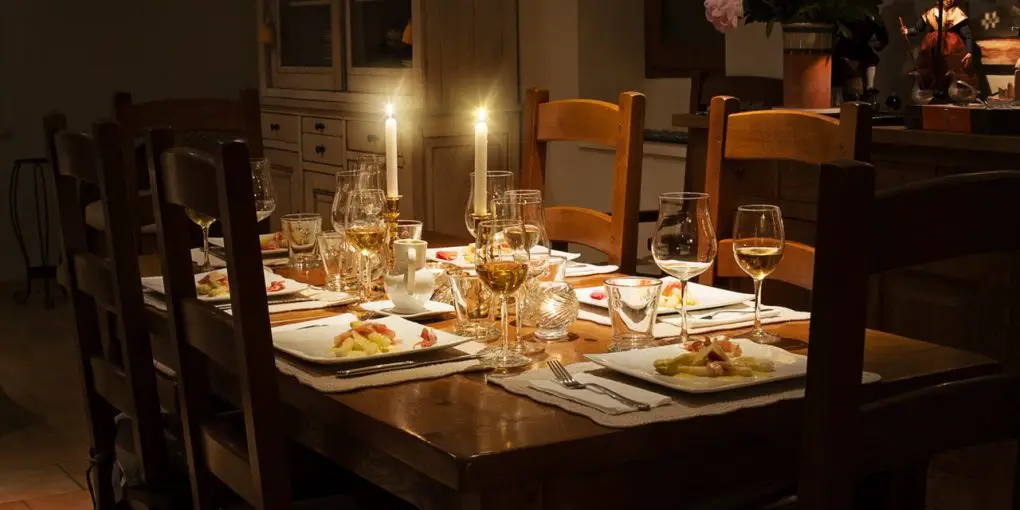 8 Easy to Cook Recipes for A Dinner Party
Disclaimer: There are affiliate links in this post. At no cost to you, I get commissions for purchases made through links in this post.
Dinner parties are always a fun and lively occasion. You get good food, enjoy the company of your friends, and there is no need to make reservations and wait at restaurants; what more can a person want?
However, if you are the one hosting a dinner party, it can easily turn into a hectic and stressful affair. Half of the day is often spent in preparing, and even when the guests arrive, you may be zooming in and out of the kitchen.
Moreover, selecting a menu for a dinner party is no breeze either. Numerous factors have to be considered; therefore, today, we are going to tell you about some of the best, easy to cook recipes for your next dinner party. Keep reading to learn more.
Portobello Parmesan:
Instead of the usual eggplant parmesan, try switching it up by using portobello mushrooms. They have an excellent texture, and the flavour is meaty. A portobello parmesan makes for the perfect vegetarian recipe. Here are the ingredients and procedure.
Ingredients:
Portobello mushrooms
Red pepper flakes, crushed garlic, fresh basil leaves, parsley and of course, salt and pepper for seasoning
A can of diced tomatoes
Panko breadcrumbs
Grated parmesan cheese and sliced mozzarella
Eggs
Procedure:
Scrape out and halve the mushrooms horizontally.
Heat olive oil in a saucepan and add red pepper flakes, garlic, tomatoes and basil and cook until the garlic is soft and fragrant. Puree the entire concoction until smooth and season with salt and pepper.
Combine the panko, parmesan, and parsley with some salt and pepper. Whisk the eggs in a separate bowl.
Dredge the mushrooms in the flour, then in the beaten eggs and finally in the panko mixture, and fry until golden.
Spread some tomato sauce in a baking dish, Add the fried mushrooms, cover them with the remaining sauce. Add mozzarella and parmesan on top and Bake until browned.
Moroccan Lamb Tagine:
This delicious and traditional Moroccan recipe is perfect for any dinner party. It is effortless to make, and it will allow you to present your guests with something unique and different. Here is the complete recipe
Ingredients:
lamb shanks
Onions, garlic, fresh ginger, chilli powder, turmeric, cumin, cardamom and cinnamon
A can of diced tomatoes
Chicken stock
Potatoes
Procedure:
Add olive oil to a Dutch oven and sear the lamb shanks until they are nicely browned.
Set aside the seared shanks and add onions garlic and ginger to the pot. After about half a minute, add the spices and the diced tomatoes. Throw in the chicken stock and season with salt and pepper according to taste
Add the shanks back to the pot and bake until fully cooked.
Creamy Chicken Pasta:
Pasta is delicious, and it is always quick and easy to make. Follow this recipe for the perfect creamy chicken pasta.
Ingredients:
Chopped shallots, celery, shredded carrots, and fresh thyme
Heavy cream
Boneless chicken breasts
Grated gruyere and parmesan cheese
Fresh fettuccine and macaroni or any other types of pasta
Procedure:
In a large skillet, add the vegetables and cook until they become soft. Stir in the heavy cream and simmer until sauce thickens.
Add the chicken strips to the sauce and simmer until the chicken is fully cooked. Add the cheese and continue simmering while stirring occasionally.
Add the boiled pasta to the sauce and toss until thoroughly coated
The Ultimate Lasagna:
When you are hosting a dinner party, a classic lasagna is the best choice. It is easy to make, and it is quite filling as well. Here is a recipe for the ultimate lasagna
Ingredients:
Lasagna noodles
Ground beef and Italian sausage
Chopped onion, carrots, celery, parsley, oregano and basil along with some sliced garlic.
Two cans of crushed tomatoes
Heavy cream
Ricotta, parmesan and mozzarella cheese
Eggs
Procedure:
Boil the lasagna noodles and set aside
Cook the beef and sausage in a large skillet until brown
Puree the onions, celery, carrots, parsley, garlic, basil, and oregano, and add them to the skillet. Throw in the crushed tomatoes along with the heavy cream and stir to combine
Assemble the lasagna by creating layers of noodles, cheese and sauce in that order. Keep layering until the casserole is full and top with some extra parmesan. Bake for an hour.
Let the lasagna rest for a while before you serve it.
Lemon and garlic roast chicken:
Roast chicken is another excellent option for a dinner party; however, the traditional recipe is quite dull. Try this easy recipe to add a little extra flavour and deliciousness to your roast chicken
Ingredients:
One roasting chicken
Salt, pepper, fresh thyme, garlic and lemons
Melted butter
A cup of white wine
Chicken stock
Procedure:
Place the chicken in a roasting pan and thoroughly season with salt and pepper
Stuff the chicken with thyme, lemon, halved, and garlic.
Brush some butter on the outside of the chicken and add the remaining lemons and garlic into the roasting pan.
Roast the chicken in a preheated oven and cover foil while you prepare the gravy.
Create a hearty gravy using the rendered fat, chicken stock, wine and some aromatics
Slice the chicken, garnish it and serve on a platter with sauce and sides
Grilled tequila, lemon and garlic flank steaks:
For your next dinner party, how about some flank steaks. By following this excellent recipe, you can make some of the most delicious and unique flank steaks that you or your guests have ever had.
Ingredients:
Chopped garlic
Fresh lime juice
Tequila
Soy sauce
Cilantro, jalapeno and serrano peppers, cumin powder, salt and pepper
Flank steak
Procedure:
Add tequila, garlic, lime juice, soy sauce, peppers, cumin, cilantro, and black pepper in a ziplock bag and marinate the flank steaks in the refrigerator.
Remove the steak from the marinade and place it on the grill. Cook on both sides for three to four minutes
Slice the steak and serve with sauce, garnishes and tortillas.
Grilled Fish:
If you want to change up your dinner menu, you should go for a seafood-based main course. A grilled fish like a Branzino, salmon or tuna is the best option. Check out this delicious recipe for the perfect grilled fish.
Ingredients:
Minced ginger and shallots
Limes
Fish of your choice
Fresh basil leaves
Oil, salt and pepper
Procedure:
Fillet the fish for more comfortable cooking, or buy pre-cut fish fillets from the market
Marinade the fish in a mixture of lime zest, shallots, ginger and olive oil with salt and pepper according to taste
Brush the fish with marinade and season with salt and pepper
Grill the fish on both sides until the skin starts to crisp and serve with a delicious sauce of your choice.
Chicken Cacciatore:
This is another excellent recipe that allows you to put an exciting spin on traditional roasted chicken. Check out the ingredients and procedure below.
Ingredients:
Kosher salt and freshly ground black pepper
Chicken thighs
All-purpose flour
Olive oil
Butter
Green and red bell peppers, onions, garlic, and mushrooms
Ground thyme, turmeric and red pepper flakes
Diced tomatoes
Pasta or egg noodles 
Procedure:
Season the chicken thighs and drench in flour
Heat the olive oil and butter in a skillet and sear the chicken
Set the chicken aside and add the vegetables to the same skillet. Stir them around until soft and translucent.
Add the spices and pour in the crushed tomatoes
Bring the chicken back to the skillet and place in the oven for an hour. Remove the lid from the skillet for the last fifteen minutes
Serve the chicken and vegetables with egg noodles or pasta
Here were some of our favorite dinner recipes that you should try out. They will allow you to make an easy and simple yet delicious dinner for your guests. We hope that you find this post helpful and informative.