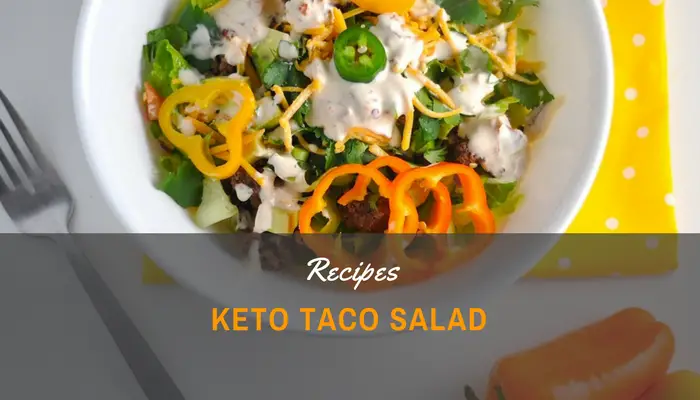 Keto Taco Salad Recipes
Easy Keto Taco Salad Recipe: A Low-Carb And Healthy Salad Bowl With Ground Beef
Taco salad is a tasty dish in itself, but is something that is avoided by those who are trying to watch what they eat, since most taco salads contain ingredients that are high in carbohydrates, like beans and chips.
The good thing about taco salads is that it's an extremely versatile recipe that can be easily transformed to be appropriate for diets like the keto diet. Here are a few high-fat and low-carb recipes that you can try so you could enjoy this tasty salad the keto way including the usage of tumeric.
Total Prep and Cook time: 20 minutes
Serving size: 5
Ingredients:
Avocado oil (or your preferred oil)
1 lb. ground beef
1 small diced onion
3 cloves of minced garlic
1 tbsp. chili powder
1 tsp. cumin
1/4 tsp. red pepper flakes, crushed
1/2 tsp. paprika
1 tsp. sea salt
1 tsp. black pepper
5 oz. salad greens
2 medium tomatoes
2 medium avocados
4 oz. shredded cheddar cheese
8 parmesan crisps* (or 5 low-carb taco shells*)
salsa (optional)
sour cream (optional)
Procedure:
Heat your choice of oil and then cook the ground beef in a pan together with the diced onion and minced garlic.
When the beef turns brown, drain the fat and then add in the chili powder, cumin, red pepper flakes, paprika, sea salt, and black pepper. Mix them together and set it aside.
For every salad serving, put together 1.25 oz. of salad greens, ½ of a tomato (diced), ½ of a chopped avocado, ¼ of the seasoned meat, and 1 oz. of the shredded cheddar cheese.
Serve it with some parmesan crisps or on low-carb taco shells, and place some salsa or sour cream if you like.
*How to make Parmesan Crisps:
Total Prep and Cook time: 6 minutes
Serving size: 12
Ingredients:
12 tbsp. of shredded parmesan cheese
Procedure:
Preheat your oven to 300°F, 350°F, or 400°F.
Prepare the tablespoons parmesan cheese by placing them on a lined sheet or parchment paper 1 to 2 inches away from each other.
Bake for around 8 minutes if set under 300°F, about 6 minutes under 350°F, and 3-5 minutes under 400°F.
Check if edges are browned, and then remove them from the oven. Let them cool and then serve or store in a tight container.
*How to make Taco Shells (low-carb):
Total Prep and Cook Time: 3 minutes
Serving size: 1
Ingredients:
2 slices of your choice of cheese
Procedure:
Place the slices of cheese on a lined baking sheet or parchment paper, ensuring that they are placed beside each other with their sides touching.
Place the sheet in the microwave and let the cheese melt in high for about 2 minutes, or until it starts to bubble and golden.
Once cooked, immediately form the cheese into a bowl by taking the sheet and flipping it on top of a bowl until it has molded into your desired taco bowl shape.
Let the cheese cool for a while before detaching it from the bowl. Serve with the taco salad.
---
For this recipe, you can simply follow the Beef Taco Salad recipe, except that you'll be substituting beef with chicken. However, you can also try another version for the seasoning as shown below.
Ingredients:
1 tbsp. chili powder
1 tbsp. cumin
1 tbsp. paprika
1 tsp. salt
1 tsp. garlic powder
1 tsp. onion powder
1/2 tsp. oregano
1/4 tsp. coriander
1/4 tsp. turmeric
1/4 tsp. cayenne pepper
2 skinless, filleted, chicken breasts
3 tbsp. olive oil
Procedure:
Thinly slice the chicken breast into strips, and then marinate it for an hour by combining the chili powder, cumin, paprika, salt, garlic powder, onion powder, oregano, coriander, turmeric, cayenne pepper, and 2 tablespoons of olive oil.
After marinating, heat the extra olive oil in a pan and cook the chicken. Proceed to step 3 and 4 of the Beef Taco Salad recipe.
These are just a few recipes, and you can always try to experiment on new ingredients to fit your taste buds. Note that you can eat delicious meals and stick to your diet at the same time. You just have to know the healthier alternatives to your favorite meals.
Are you looking for a healthy Mexican dish that's low-carb and keto-friendly? Look no further than the taco salad! This easy-to-make dish is perfect for Taco Tuesday or any day you'd like to enjoy a delicious and healthy salad. With its blend of taco seasoning, lean ground beef, and fresh ingredients like avocado and lettuce, you'll love this taco salad recipe. Plus, the homemade taco seasoning and salad dressing make it a perfect keto meal that's low in net carbs per serving. We'll show you how to make a delicious and healthy taco salad that's simple to make, using easy keto taco salad recipes, salad toppings, and taco salad dressing. Let's get started with the best keto taco salad recipe!
How To Make Keto Taco Salad Dressing And Choose The Best Salad Toppings
If you're looking for a delicious and healthy low-carb salad for dinner, try making this keto taco salad. Start by adding the taco meat to a large bowl with your favorite low-carb taco seasoning mix. Then, add the taco toppings you like to make the perfect low carb and keto-friendly taco salad. To make the dressing for taco salad, simply mix sour cream with some spices and lime juice. The whole salad comes together quickly and is easy to make. This recipe is made with only a few ingredients and has a low carb count of only a few grams of net carbs per serving. Enjoy this delicious taco salad in a large salad bowl or as a side dish to your favorite keto dinner.
Low-Carb And Delicious: Our Favorite Keto Salad Recipes For Every Occasion
If you're following a keto diet and looking for some low-carb meal ideas, try these delicious keto salad recipes for every occasion. From a classic taco salad with ground beef to a Mexican taco salad or even a taco casserole in a bowl, there are many ways to enjoy a low-carb taco salad. These recipes are made with easy-to-find ingredients and are perfect for anyone on a low carb and keto-friendly diet. Whether you like to make the taco shell from scratch or prefer a simple salad with 2-3 ingredients, there's a recipe for you. So, learn how to make these healthy low carb salads today and enjoy a delicious and easy low carb meal!
Enjoy A Flavorful Keto Salad Bowl With Avocado And Ground Beef Taco Salad
Keto salad recipes are low-carb and high-fat salad recipes that are suitable for those following a ketogenic diet. They typically use ingredients that are low in carbohydrates and high in healthy fats, such as avocado, nuts, seeds, and cheese. Some common keto salad recipes include classic taco salad with ground beef, Caesar salad with grilled chicken, Greek salad with feta cheese, and Cobb salad with bacon and hard-boiled eggs. These salads are usually dressed with a high-fat dressing, such as a creamy ranch or Caesar dressing, to add flavor and increase the fat content. Overall, keto salad recipes are a great way to incorporate more healthy fats and vegetables into your diet while staying within your daily carb limit.
Make Taco Tuesday Keto-Friendly With Homemade Taco Seasoning And Fresh Salad Ingredients
Taco Tuesday doesn't have to derail your low carb and keto diet. With a few simple swaps, you can make your tacos and salads keto-friendly. Start by making your own homemade taco seasoning using spices like chili powder, cumin, and paprika. Then, add the ground beef to a large skillet and sprinkle the homemade taco seasoning over the meat. While the meat is cooking, prepare a fresh salad with 2-3 low carb and keto-friendly ingredients like lettuce, avocado, and cherry tomatoes. Once the taco ground beef is cooked, add it to the salad and toss the salad together. You now have a delicious and healthy taco salad that is low carb and keto-friendly. So, make this recipe for your next Taco Tuesday and enjoy an entire salad that is both satisfying and nutritious.
Conclusion
In conclusion, making Taco Tuesday keto-friendly is easier than you think. By making your own homemade taco seasoning and incorporating fresh salad ingredients, you can enjoy a delicious and nutritious taco salad that is low carb and keto-friendly. With this recipe card, you can easily follow along and create a satisfying salad with 2-3 low carb and keto-friendly ingredients. Whether you're looking for an easy taco salad or a more elaborate bowl recipe, you can easily make a taco salad that is keto-friendly. So, next time you're craving tacos, don't give up your low carb diet. Instead, try this keto taco salad recipe and enjoy a tasty and healthy meal.
Frequently Asked Questions (FAQs)
If you've still got questions about Are Taco Salads Keto, then these may help:
How To Make A Low Carb Taco Salad Bowl
To make this recipe, simply add taco seasoning to ground beef and cook until browned. Then, layer lettuce, tomatoes, avocado, and shredded cheese in a bowl, and top with the taco meat. For a keto-friendly salad dressing, try mixing sour cream with lime juice and cumin. With only a few simple ingredients, you can make a tasty low-carb taco salad bowl that's perfect for lunch, dinner, or even meal prep!
How Many Carbs In A Keto Taco Salad Recipe Without Shell?
If you skip the taco shell, a Keto taco salad recipe can be quite low in carbs. The exact number of carbs in the recipe will depend on the ingredients used and the portion size. A Keto taco salad with ground beef, lettuce, tomatoes, avocado, cheese, and a Keto-friendly dressing would contain around 10-15 grams of net carbs per serving. To make it even lower in carbs, you could use a smaller portion of certain ingredients or substitute some of them for lower-carb options. Overall, a Keto taco salad is a delicious and satisfying way to enjoy Mexican flavors while keeping your carb count in check.
What Are Easy Keto Recipes For Beginners?
If you're new to the keto diet, there are plenty of easy recipes to get started with. One simple option is a keto taco salad, which is both low-carb and delicious. To make it, start with a base of lettuce or other leafy greens, and then add in keto-friendly toppings like avocado, ground beef, and shredded cheese. You can even make your own homemade taco seasoning to add some extra flavor without any added carbs. Other easy keto recipes for beginners include roasted vegetables, grilled meats, and simple salads with high-fat dressings. With a little bit of creativity and some keto-friendly ingredients, you can make a wide variety of tasty and healthy meals that fit into your low-carb diet.
How To Make Taco Salad Keto Friendly?
To make a taco salad keto-friendly, you can start by swapping out high-carb ingredients like taco shells or tortilla chips for low-carb options like lettuce or kale. Use taco seasoning mix with no added sugars or make your own using spices like cumin, chili powder, and paprika. Add protein like grilled chicken, ground beef, or shrimp, and top with keto-friendly ingredients like avocado, shredded cheese, sour cream, and salsa. Be mindful of the carb count of any other toppings you add, like tomatoes or onions. With these easy substitutions and a focus on low-carb, high-fat ingredients, you can create a delicious and satisfying keto taco salad.
Are Taco Salads A Low Carb Salad?
Taco salads can be a low carb salad option, especially if you make them keto-friendly by choosing low carb taco salad ingredients and dressing. By omitting high-carb taco shells or tortilla chips, you can make a salad with 2 grams of net carbs or less. Using keto-friendly ingredients like taco seasoning mix, ground beef, and fresh vegetables like lettuce, tomatoes, and avocado, you can make a delicious and healthy low carb meal. Just be sure to check the carb count of each ingredient and make low carb substitutions when necessary. With the right recipe ingredients, a taco salad can be a satisfying and nutritious meal that fits into a low carb diet.
What Mexican Food Is Ok On Keto Mexican Diet?
There are several Mexican foods that can be included in a keto diet. Some keto-friendly options include guacamole, grilled chicken or steak fajitas without the tortillas, ceviche, salsa, low-carb taco salad, and keto-friendly enchiladas made with low-carb tortillas. It is important to pay attention to the ingredients and the carb count of each dish to ensure that it fits within your daily carb limit. Keto Mexican food can be both delicious and healthy when made with fresh, whole ingredients and prepared in a low-carb manner.