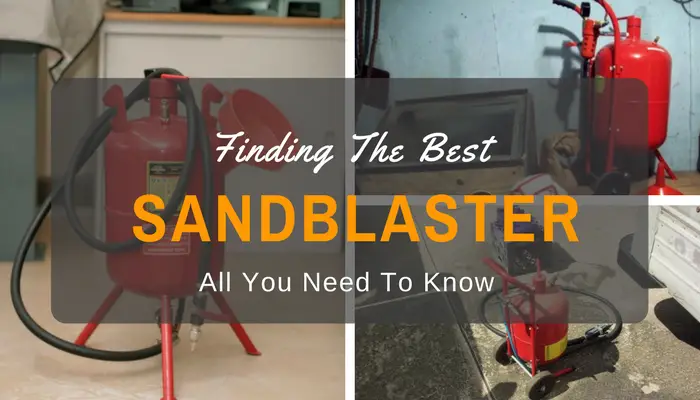 🥇💨Top 4 Best Sandblaster 2022: Reviews and Buyer's Guide🏆
Disclaimer: There are affiliate links in this post. At no cost to you, I get commissions for purchases made through links in this post.
Life without some of the tools we use at home and for industrial purposes would surely be hard. There are lots of these machines that help us get our tasks done and one notable one is a sandblaster. There are several kinds of sandblasters in the market today, and it is paramount for you as a consumer to know how to pick the best sandblaster for you.
| | | | | | |
| --- | --- | --- | --- | --- | --- |
| | | | | | |
| | | | | | |
| | | | | | |
| | | | | | |
About Sandblasters
This machine is essentially an air tool that emits sand at a high pressure or any other abrasive material aimed at cleaning debris stuck on items. It is mostly used to grind surfaces in a bid to make the surfaces clean and smooth. Examples of items that are cleaned off using this tool include rust, paint, corrosion and dirt particles. All the sandblasters in the market operate on the same principle. Some alternative uses of sandblasters include etching delicate glass and polishing surfaces.
Types Of Sandblasters
When looking for a sandblaster for your home or industrial tasks, it is vital to know the options you have and which one is best for you before making the final decision. These different types of sandblasters in the market work differently and have various applications. Below are the three top types of sandblasters.
Gravity Fed Sandblaster
This type of sandblaster uses gravity for its functionality as seen from its name. Sand is out in a receptacle often known as a hopper which is placed on top of the gun. The gun is then connected to an air compressor, and when you press the trigger, air blasts out of the nozzle and some sand falls into the nozzle which in turn gets blasted out at a very high speed.
Siphon Sandblasters
These machines are quite related to the gravity fed ones with only one thing differentiating the two. In this kind of machine, the container that has the sand is below the nozzle and not on top of it like the gravity fed one. When the air is blasted in the same way as the gravity fed one, the sand gets sucked into the nozzle and blasted out of the gun.
Pressure Sandblaster
These sandblasters utilize sand containers that are highly pressurized. The guns are connected to these containers, and then the sand gets blasted out when the trigger is pressed. This particular type of sandblaster is straightforward to use but has the disadvantage of being very costly. The containers having the sand cannot be refilled, and one is required to purchase new ones when the ones being used get depleted off the sand.
Size Of The Sandblasters
These machines come in a variety of sizes. These dimensions largely determine where the blaster can be used and thus helps you decide on the one you think will serve you well. Below are the different types of sandblasters based on their size.
Mini Sandblasters
These are the smallest from all the other types. They are mobile and are designed for precision tasks. They are ideally suited for small spaces, and one important application is the removal of rust and paint from old cars that need repainting. They are also used to etch specific styles on glass.
Large Sized Sandblasters
These machines are not very portable and need to be attached to a surface so that they can be steady. For tasks where they need to be moved around, they can be attached to small carts that have wheels to allow for movement. The most common application for these sandblasters is the removal of paint from houses.
Industrial Sandblasters
These kinds of blasters are huge in size and need to be placed on big trucks. They are mostly used for involving outdoor tasks like removing paint from huge buildings. Huge construction companies mainly utilize them. They are very expensive and considered as heavy duty machines.
Parts Of A Sandblasters
The tasks done by a sandblaster primarily rely on the features you decide to set. Examples of the additional standard and optional features include:
A large hopper which allows you to store more sand.
Smooth grips allow one to blast for extended periods.
Huge fuel tanks allow one to finish the job without having to refill it all the time.
Adjustable pressure controls allow one to change the pressure at which the sand is blasted at, something that is essential when executing different tasks.
Robust steel cabinets are important as blasters made of this material last longer due to their robustness.
The ability to reuse sand that is used helps save on the costs.
Different sizes of nozzles allow one to use the sand blaster on items and tasks of varying sizes.
Wet sandblasting allows one to mix the sand with water to enhance the efficiency of the blasting process.
All the discussed aspects are very important when pondering on which sandblaster to buy. These blasters are found in several stores today, and you should ensure the firm you are purchasing your sandblaster from is reputable. This can be seen from the ratings and reviews from the customers who have previously purchased merchandise from them. You should also watch out for bundle packages and see the extra features that certain sellers offer. These packages allow you to increase the versatility of your sandblaster since you can be able to change the different parts highlighted above and use the same blaster for various tasks.
Top 4 Sandblaster Reviews On The Market 2022
| | | | | |
| --- | --- | --- | --- | --- |
| | | | | |
| | | | | |
| | | | | |
| | | | | |
---
This is a machine which has its compressor directly connected to the tank, something that makes the pressure inside the reservoir quite high. This feature allows the sand to be inserted into the gun resulting in rapid and efficient surface cleaning. It is able to remove the most sophisticated surfaces. This machine's efficiency is largely reliant on the tank capacity, and the ten-gallon tank is a great feature seen on this blaster. It is fitted with a ten-foot blasting hose pipe which makes it useful for blasting large items. The long hose pipe was a very good idea since the 51 lbs weight of the sand blaster makes it quite heavy and hard to carry from point to point. This particular blaster has some smooth rolling wheels that are used for movement from one point to another.
Pros.
Efficient and capable of cleaning surfaces very quickly.
Has a fairly sizeable tank.
The presence of wheels to allow for mobility.
Long hose pipe to allow cleaning of large surfaces.
Has a water separator to eliminate water and mist in the system.
Has three ball valves that allow you to adjust the pressure and other things.
Perfect for shops specialized in body works.
Has a four piece set of nozzle for versatility.
Powered by air.
Not suitable for precision cleaning.
Quite heavy.
Need for additional protection means.
---
This is another pressure fed sand blaster worth considering. It is mainly used for removal of paint, rust and the effects of oxidation on surfaces. It has two six-inch rubber wheels which help in moving the blaster from one point to another. Its body is made of pure steel, and it is best suited to building contractors and dedicated DIY enthusiasts as it can effectively clean concrete and brick surfaces. It has a ten-gallon tank capacity and an additional shut off valve that helps keep the media in place. It is very simple to use, and all you need to do is connect it to a compressor, dress up in the required safety gear and fill in the sand, and you will be good to go. This blaster is relatively unfit for heavy workload but will most likely fit in well when used for moderately sized tasks.
Pros.
Quite compact in size compared to other models.
Has an eight-foot-long hose.
Has a relatively large tank.
Has wheels that help in movement.
Perfectly works with a wide variety of abrasives.
Weighs 48.4 lbs which is on the higher side.
Comes with a set of nozzles and a protective hood.
Requires frequent refills.
Relatively high price.
---
This is a 20-gallon tank sand blaster worth taking a look at. It has a ten-foot hose pipe and a brass shut off valve to adjust the flow of media. Its huge capacity characterizes it, and it comes with a pick of four differently sized nozzles. The package includes a funnel and a safety mask. The sand blaster is powered by gas and has the disadvantage of not being able to accommodate all the different kinds of blast media used for cleaning processes. This sand blaster is made from steel and in a red color. It weighs about 55 lbs and is powered by gas. This sandblaster is highly suited for professional shops and home garages that mostly need blasters to help clean car surfaces when changing the paintwork.
Pros.
Includes a safety mask and long hose.
Suitable for car cleaning purposes.
Has a fairly huge tank capacity.
Has an additional safety mask in the package.
Has two rubber wheels to allow for movement.
Does not need constant refilling.
Has a great weight to size ratio.
Not suitable for construction works.
Cannot accommodate a wide variety of blast media.
Powered by gas.
---
This electrical power sand blaster is a relatively heavy duty machine with a 28-gallon tank for holding the blasting media. The blaster needs an electrical input of 110 Volts for proper functionality. It is shipped in different parts due to its relatively huge size and requires some assembling before one can finally use it. It is easy to operate and has a long hose to allow for cleaning applications that involve cleaning large surfaces. It weighs about 78 lbs, and this is quite reasonable considering the huge tank. It does not need constant refilling as the blasting media can last for an extended period when filled tank.
Pros.
Has a huge tank.
Has a good weight to size ratio.
Does not need constant refilling.
Has a set of wheels to allow for movement.
Has a long hose and comes with a set of different nozzles.
It is electrically powered and cannot work without this power.
Assembling instructions may not be clear to many people, and lack of proper assemblage might lead to improper functioning of the blaster.
Final Verdict
The different ways of selecting a sand blaster and how you can choose the best one for your home and industrial use have been explicitly highlighted. We have then reviewed some four sand blasters, and I would pick the best one to be the Xtremepower US 10 Gallon Air Sand Blaster with Ceramic Tips. This is the best from the rest, and it stands out due to a couple of factors highlighted in the section that indicated the things you should consider when picking a suitable blaster.
For its price, this sand blaster offers the best value for money. Its price is reasonably set, and the functionality is evidently more than I expected. The tank, weight, amount of media that can be filled in one go and the applications are all rounded up well, something that makes it hard to even find a weak point about this sand blaster. The main disadvantages of this sand blaster are the weight and its inability to clean in precision applications. However, these downsides can be overshadowed by getting a differently sized nozzle to help in precision cleaning and using the wheels to reduce the need for carrying the blaster from one place to another.
The company behind this blaster is a reputable one in the industry and has been backed up by several positive reviews that show the quality of their products.