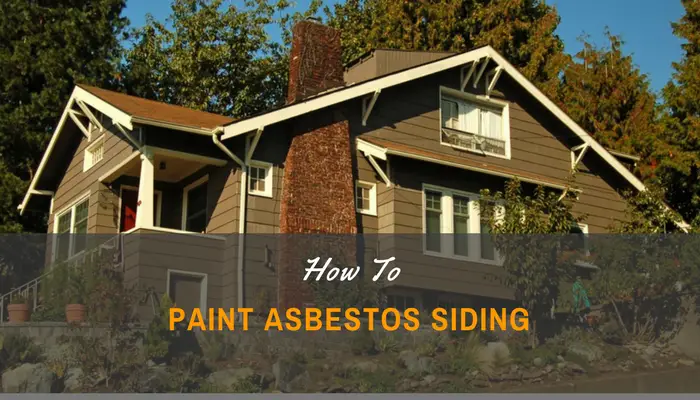 How to Paint Asbestos Siding
Disclaimer: There are affiliate links in this post. At no cost to you, I get commissions for purchases made through links in this post.
It is recommended to paint asbestos siding in order to prevent deterioration. When a product containing asbestos weakens, asbestos fibers may become friable and get into the air. Asbestos siding poses minimal health risk, but painting it will eventually prevent some potential health issues.
Benefits of Painting Asbestos Siding
---
1. Paint can easily adhere to asbestos siding.
2. Durable – paint can hold out for a long time without cracking or chipping.
3. Affordable – you always have a choice whether you want to paint or remove and replace the siding. Remember that it is more affordable to keep the old asbestos siding and simply paint it.
Precautions before Painting Asbestos Siding
Do not power-wash asbestos siding. This may cause the siding to be damaged or chipped, releasing asbestos fibers that may be hazardous when inhaled.
In case you do a power-wash, be as gentle as possible. Then, stop immediately when you see that you are pulling down some pieces of the siding.
Before painting, you will spend some more time prepping and cleaning the siding. Moreover, instead of power-washing, you can just depend on sponges and garden hose.
Painting Asbestos Siding
Compared to other similar Hardie board or fiber cement siding, there is not much difference in terms of painting asbestos siding after you prepped and cleaned the surface.
Preparation before coating is the key to a successful paint job. When you are done cleaning, paint the siding with a suitable primer. It should be completely dry before applying the finish coating.
With regard to the manner of painting, you will have a choice between spraying and rolling. At times, rolling can be hard because of the surface of the asbestos siding. Regarding the amount of paint that you will need, the coverage is almost the same.
Painting Asbestos Siding vs. Replacement
​
Removing or abating siding can be really expensive, not to mention the hefty cost of putting on new siding when you remove and dispose off the old siding.
No matter what kind of siding you have, painting it will always be the more affordable choice because replacement of siding of a house is an expensive home renovation project.
In terms of the overall health hazard concerning handling materials with asbestos, siding is on a really low category. It is much less dangerous compared to asbestos found in pipe wrap, insulation, or sheetrock.
Siding is naturally durable and it will be hard for asbestos fibers to mix up with the air. In case fibers become airborne, it is usually outside in the open air. This will even further reduce health risk.
Choosing the Best Paint for Asbestos Siding
With regards to asbestos siding, there is really no "best" paint because it does not need anything extraordinary. All you have to do is decide on a brand that you trust and then select a suitable exterior paint.
Do not just pick the most affordable paint that you see. There is no difference between painting asbestos siding and painting other exterior surfaces as they are all exposed to various elements.
You may save some money if you choose the cheapest paint. However, you will most likely deal with the need of painting the exterior of your whole house again after a few years once the cheap paint weakens and cannot hold up anymore.
Safety Guidelines for Painting Asbestos Siding
You may be worried about the possible health risks that you may encounter while painting asbestos siding. If this is the case, consider adhering to the following safety measures:
 Do not sand or scrape the siding

– this might release asbestos fibers that can be inhaled, and this could be risky to one's health.

Use a

dust mask

– do this particularly when the surface needs thorough cleaning.

Throw away the clothing you used when painting asbestos siding

– this will eliminate the chance that you may carry asbestos fibers inside your home.

Use a disposable Tyvek suit

– consider this option if you do not want to throw away the clothes you used when painting.

Use a respirator

– this could be a little too much, but this will always make you feel at ease when you are really concerned about the risks that asbestos may pose to your health.
​
Some Points to Remember
Just because your siding is old does not necessarily mean that it contains asbestos. If you want to be sure, the only way to find out is to test suspicious materials. A lot of homeowners thought that their siding contains asbestos and they have been surprised when they discovered that it does not have asbestos at all.
When you decide to hire a contractor, remember that painting asbestos siding does not need a specific kind of licensing. This means that there is no need for you to pay expensive fees to a specialist that is licensed to work with asbestos abatement.
Painting asbestos siding is not difficult. With proper cleaning and preparation, the paint will hold for years, even decades.