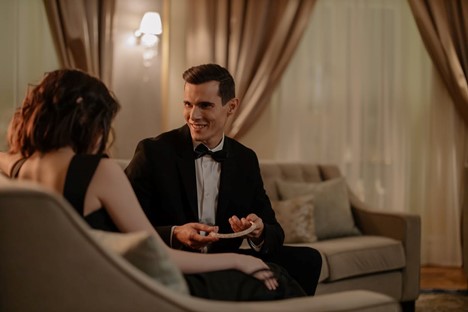 Exhilarating Gift Ideas to Sweep Her off Her Feet
Disclaimer: There are affiliate links in this post. At no cost to you, I get commissions for purchases made through links in this post.
Valentine's Day is just around the corner, and the love bug is infecting us all with a romantic mood. Although, most men aren't thoughtful and talented gift-givers and struggle to make grand gestures to express their love. However, valentine is an occasion when your partner is expecting you to go big on grandeur and plan an exciting evening. It's time to cook up fancy and romantic ideas to sweep your partner off her feet.
It's natural to feel overwhelmed by this romantic holiday's pressure, compelling you to outdo last year's extravagance and gestures. We advise against succumbing to this pressure or focusing overly on the superficial elements of the valentine's gift-giving ritual. Instead, focus on your partner's happiness and the joy she adds to your life.
This holiday isn't about celebrating centuries-old romantic traditions but rather honoring your partner and her commitment. Keep reading to explore exhilarating gift ideas to sweep your darling off her feet.
Trinkets & Jewelry
A girl can never have enough jewels and trinkets, and no gift can amount to the grandeur of a finely crafted jewelry piece. Now, most men refrain from jewelry pieces because they don't have the money to splurge on gold and diamonds. While diamonds are a girl's best friend, they have minimal resale value and don't constitute a valuable investment.
We urge you to explore other metals, such as silver, platinum, brass, and copper, ornamented and beautified with 14-K gold plating. Gold-plated trinkets are long-lasting and valuable, and they look intensely charming, sparkling against the skin. What's more, gold-plated metals are ideally suitable for everyday use and demand minimal maintenance.
Jewelry designers are rolling out beautifully crafted collections of women's Valentine's day rings with glamorous and minimal feminine styles. It's wise to pick a dazzling gold-plated brass ring with a heartfelt engraving to make a beautiful gesture. Necklaces, earrings, bracelets, and other jewelry pieces are also worth considering, but a gold-plated ring is more apt for this romantic occasion.
You can explore dazzling varieties in gold-plated rings decked with sparkly zirconia embellishments, rare gemstones, and precious engravings. If you want to make this gesture more meaningful, consider adding an engraving symbolizing your bond with your partner. Or perhaps, you'd like to pick a piece that adds glamour to her individuality and feminine aura.
Makeup Mania
Women spend thousands of dollars on makeup products each year to channel their artistic talents into beautifying themselves. Now, shopping for makeup is alien territory for men who can't differentiate between two different shades of red lipstick. It's natural for men to steer clear of Sephora, but you can't make a grander gesture if your girl adores makeup.
We advise shopping for makeup items your partner has always desired but didn't splurge on due to budgetary concerns. Digging into the posts, she has saved on Instagram will give you ample insight into her makeup wishlist. If you're uncomfortable invading your partner's privacy, consider restocking the empty bottles on her vanity table.
It's much easier to pick up labels and products that have almost ended to help her restock her vanity table. You won't have to go to the trouble of finding foundations and lipsticks that compliment her skin tone and skills.
Culinary Tools & Cookware
Is your partner an avid baker or a gifted culinary artist? In that case, look no further than smart cooking gadgets and precious cookware pieces to make her day. Smart kitchen tools like air fryers, smart pressure cookers, automatic coffee makers, and digital smoker grills offer exceptional utility. And these gifts will benefit you tremendously, as your partner will whip up scrumptious delicacies and treats.
An air fryer is a terrific gift idea for a girl who enjoys devouring fried chicken and crispy treats. It's an investment that will help your partner prepare her favorite meals with a grease-free healthy twist. Smart kitchen appliances and gadgets will enhance her culinary talents and offer ample convenience. You can also explore precious ceramics and porcelain dinnerware or surprise her with a prized Cuisinart cookware set.
Fitness-Focused Ideas
Is your partner a fitness enthusiast who enjoys long runs and physically challenging workout sessions? Or perhaps, she's struggling to embrace a healthier lifestyle with a well-balanced diet and regular exercise? Either way, fitness-focused gifts express our care and concern and add value to the life quality of the recipient.
 You can explore a wealth of gift ideas for women who are fitness fanatics or struggling to get physically fit. For instance, girls adore athleisure apparel and sleek yoga tights, regardless of whether they work out or not. Surprising her with some yoga sets and athleisure clothing from Nike or Under Armor is a fabulous idea.
You can also explore other fitness products, like acupressure mats, fitness trackers, foot massagers, fitness journals, and smart water bottles.
A Romantic Getaway
There is nothing better than a romantic getaway to a scenic destination to sweep your partner off her feet and express your devotion. We all need a fun-filled weekend away from the exhausting humdrum of city life and work-related responsibilities. You can plan an exciting getaway to a nearby tourist destination or gift a hotel voucher for a lavish one-night stay.
Embarking on a road trip or an exhilarating adventure is a terrific idea to make this Valentine's Day unforgettable. You don't have to overextend your budget or max out your credit card while planning a memorable getaway. Instead, work within your budget and find avenues to make the trip exciting. If you plan it properly, even a one-day trip to a scenic location will do splendidly, followed by a romantic dinner.
Or you can book a room at a five-star hotel and pamper your girl with a luxurious room and an elaborate three-course meal. You can book a hotel that offers hot tub services for a romantic night of soaking in warm water under the stars.
Final Thoughts
Grand gestures don't always cost thousands of dollars. Instead, they demand an acute understanding of your partner's preferences, desires, and wishlists. What is the one thing that gets your girl excited and glowing with joy? Think hard and deep, and find gifts that will add value to her life and bring a smile to her face.
Gifts are material items, but they reflect how much we care and understand the people in our lives. Your partner is indeed the most special person in your life, and your gift should reflect this sentiment. Look beyond the hype and clichés of Valentine's Day and find something your girl will truly cherish.