Snow Play: The Health Benefits Of Winter Sports
The Benefits Of Winter Sports: Physical Health Benefits With Snow Sport
It's no revelation that California fosters a reputation for sunshine, summer and beaches. For many here in northern California, however, that ubiquitous imagery is replaced half the year with dreams of soft white powder and the crisp sound of edges slicing through snow. With our close proximity to the Lake Tahoe Basin, northern California has emerged as a haven for winter sports, and the multitude of available activities leaves little room for excuses to hibernate.
Winter sports build muscle mass, endurance and balance, and are one of the few activities one can participate in from youth to old age, making it accessible for the entire family. Engaging in a winter sport also burns more calories than their warm weather equivalent, since it takes more energy for the body to maintain homeostasis in a colder environment.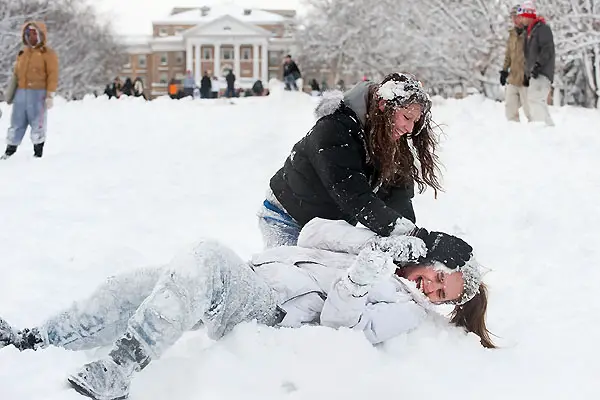 But it's not just about maintaining your beach bod; the psychological benefits are amazing as well. When you engage in a winter sport, endorphins and adrenaline are released into the bloodstream, elevating the mood and providing an overall sense of well-being and contentment. Plus, you're outdoors in the fresh air: There's a reason it's called cabin fever.
Fueling a growing popularity is the formidable winter sports retail industry, whose vast improvements in equipment and affordability have allowed for mass participation in a previously exclusive culture. Winter sports retail brought in $3.5 billion ($1.3 billion in apparel, $1.1 billion in accessories, and $847 million in equipment sales) last year, according to Kelly Davis, SnowSports Industry America's director of research. She also adds that participants in winter sports burned more than 332 billion calories in America last season—enough to offset 475 million cheeseburgers or 2.2 million beers. In a season typically fraught with calorie-laden food and drink, that's what we call incentive!
SNOWSHOEING
This low-impact activity may not seem much like a sport, but anyone who has participated in snowshoeing can testify to the exertion it demands. The activity consists of trekking through deep powder with 8" x 22" "boats" attached to your feet. The apparatuses work by distributing a person's weight over a larger surface area so that the person's foot does not sink completely into the snow, a quality called flotation.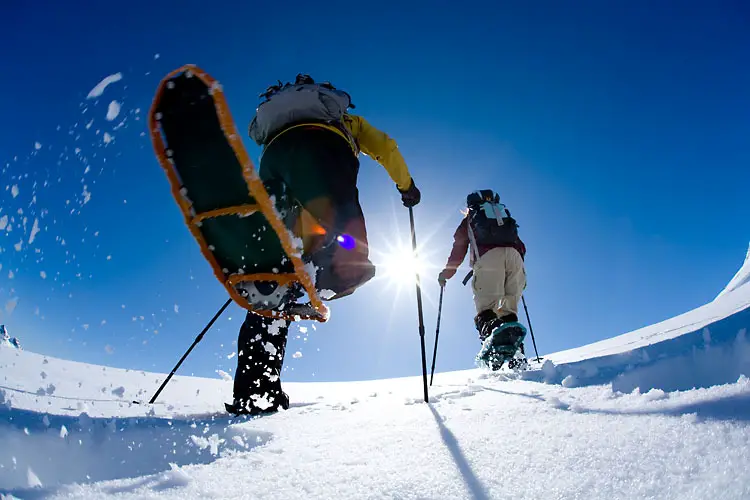 Ray Browning, Ph.D., of the Center for Human Nutrition at the University of Colorado's Health Science Center and Vail Mountain Man champion, told snowshoes.com: "Snowshoeing is the best bang-for-your-buck, fat-burning workout in winter…It's an exceptional way to achieve cardiovascular fitness, expend energy and reduce your chance of heart disease; plus it's low cost, easily mastered and fun." Snowshoeing is easy to learn, and in appropriate conditions, is a relatively safe and inexpensive recreational activity. And if you're wondering where you might find snowshoes, local REI stores in Roseville and Folsom offer equipment for either rent or purchase. For more information and to find trails available in our area, visit trails.com.
DOWNHILL SKIING
Also known as alpine skiing, downhill skiing is by far the most popular snow sport. Of the 6.9 percent of the total U.S. population over 6 years old who participates in at least one snow sport, 44 percent chose to downhill ski in 2012. Skiing is one of the most calorie-intense sports. Depending on body weight, the type and intensity, skiing can burn more than 1,000 calories per hour. Alpine skiing is considered a "power sport," using short bursts of energy and major muscles such as the hamstrings, quads, calves, hips, and to a lesser degree, the abdominal and arms.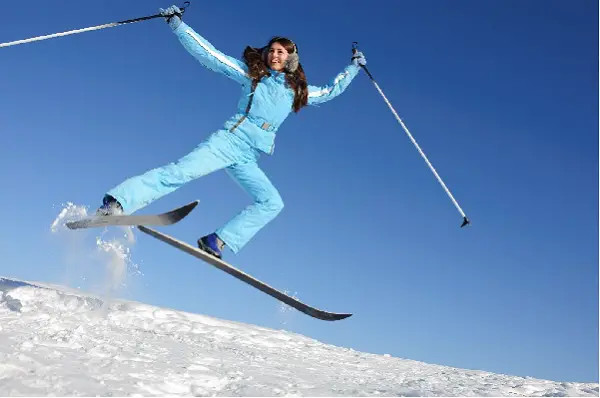 In the midst of a run, a skier is crouched in a squat position—turning, jumping and stabilizing, and engaging muscles for the duration of the trail. Advanced skiers are more likely to tackle moguled terrain, increasing the calorie expenditure and muscle engagement. Skiing is intense, requiring a lot of energy and effort, which is why it's a great sport choice for those who are looking to shed a few pounds and trim up.
There are 37 ski resorts in northern California alone to chose from, with the highest concentration (and the highest rated) ones located in the Lake Tahoe area. Many of these offer extremely affordable single day and package options for those on a budget. For deals on lift tickets and packages for the whole family, visit skilaketahoe.com.
CROSS-COUNTRY SKIING
In terms of endurance building, cross-country skiing, or Nordic skiing, is one of the best sports a person can do. Unlike downhill skiing in which one engages in activity for short bursts, in cross-country skiing one moves nonstop for an extended period of time. Think of the difference between the two like interval training versus cardio, and you'll start to get the idea. With a little help from gravity, a cross-country skier's heart is required to continuously pump oxygen to his muscles through his blood vessels, developing lung capacity.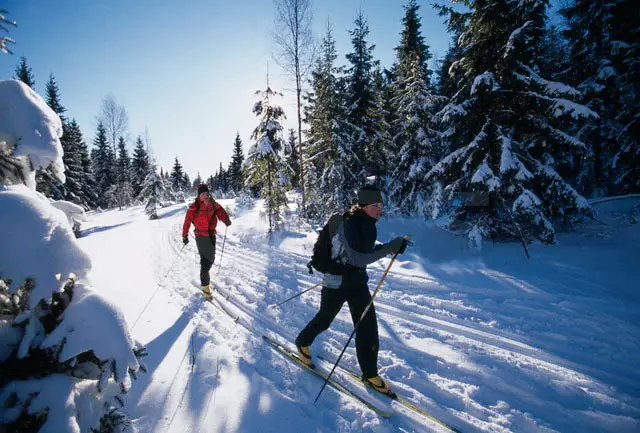 If you're a runner, cyclist or triathlete, cross-country skiing is a great off-season sport alternative to maintain your body condition and lung function. While the exact muscles worked vary with skiing style, they typically include the thighs, glutes and calves, while the biceps and triceps are engaged for poling. If your interest is piqued, you're in luck. Lake Tahoe's Sugar Bowl Resort recently signed an agreement to operate neighboring Royal Gorge XC, which the Truckee Donner Land Trust acquired this past summer. America's largest cross-country resort, Royal Gorge consists of 200 kilometers of trails and approximately 6,000 acres of terrain.
Sugar Bowl Resort and Royal Gorge are already connected by an "interconnect trail" that allows skiers to go back and forth between the two, and plans are in the works to further enhance the connection with two additional beginner-friendly routes and a $500,000 renovation for the iconic resort. Sugar Bowl also offers a season pass that allows holders to downhill ski at Sugar Bowl and cross-country ski at Royal Gorge for one rate. For more details, visit sugarbowl.com.
SNOWBOARDING
Once considered a rogue sport on the slopes, snowboarding has continued to ascend as the fastest growing snow sport. In fact, snowboardinghelp.com, an online guide to snowboarding by Jakob Jelling, estimates that 80 percent of snow sport novices choose snowboarding for their entry into winter activities. And they're no slackers. The calories you burn while snowboarding are comparable to what you might burn with cross-country skiing, downhill skiing or snowshoeing.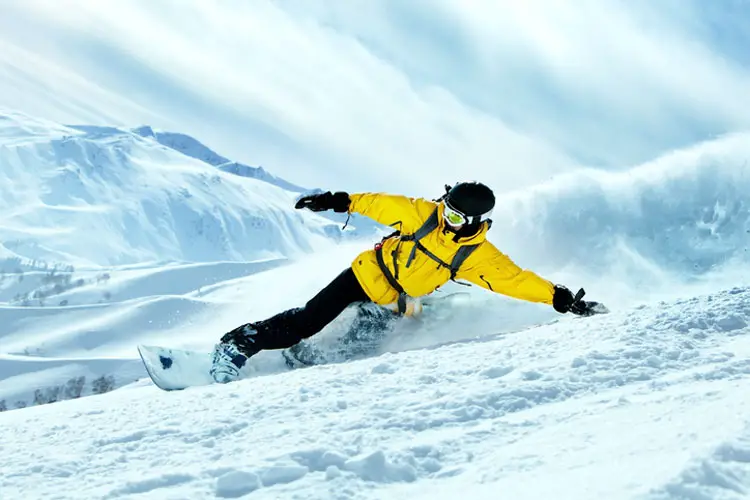 Depending on the variables (exertion, body weight), snowboarding can burn 250 to 630 calories per hour for a 110-200 pound adult. Competitive or rigorous snowboarding can burn 700 to 1,260 calories per hour for a 110-200 pound adult. For adults in the same weight range, 30 minutes of recreational snowboarding would burn 125 to 315 calories per hour, and 30 minutes of competitive or rigorous snowboarding would burn 350 to 630 calories. Snowboarding engages the core as you balance, as well as calf muscles, quadriceps and hamstrings as you rock back and forth.
The muscles in your ankles and feet will help you steer the board and even arm and shoulder muscles—used for balance and to pick yourself up when you fall—are worked. The best way to learn the sport is to (surprise!) take a lesson. Squaw Valley, one of the largest ski resorts in America and host of the 1960 Winter Olympics, has partnered with Burton and their acclaimed Learn to Ride (LTR) program for Winter 2013. As a part of the LTR program, Squaw will be offering specially designed equipment for beginner snowboarders (both kids and adults). Already a staple of Squaw's Snowboard School, Burton's LTR teaching methodologies help new riders to learn to make and connect their turns faster, making for a great first time experience—and a better workout. For more details, visit squaw.com.
ICE-SKATING
If you've ever watched ice-skaters on television and spent as much time appreciating their fab physique as their moves, there's a good reason why. Ice-skating uses a lot of small stabilizer muscles that don't normally get a workout (hips, knees and ankles) while toning larger muscles in your legs, butt and core at the same time. The calories burned in this aerobic activity depend on your speed: A 155-pound woman skating slowly burns about 387 calories per hour.
Fast, full-out skating (for example, chasing a puck) burns 633 calories per hour. Skating outside offers a bit more of a workout than an indoor rink since you're contending with wind and bumpier, harder ice. However, one of the best benefits of ice-skating is that it's low-impact…unless, of course, you're a newbie. Then your rear-end may tell a different story. In that case, it might be beneficial to take a lesson (or two!) and wear enforced skates. Gather some friends and family and head to Historic Folsom; a major re-haul of the district was recently completed and features an ice rink (through January 21) at the public plaza's railroad turntable off Sutter Street. Besides the picturesque location, the Folsom Historic District Ice Rink offers fun events, such as party packages and theme nights. For more details, visit historicfolsom.org.
HYDRATION AND SAFETY
Dehydration is one of the biggest problems facing winter sport participants. Similar to swimming, athletes tend to forget that they are losing important fluids through sweating and normal respiration. In fact, at elevations of 6,000 feet, you exhale and perspire two times more moisture than you do at sea level. Additionally, cold weather and high altitudes tend to inhibit thirst and appetite. Add to the equation the fact that skiers and riders are notorious for consuming alcohol and caffeine—diuretics that rob the body of fluids.
When a person becomes dehydrated, the heart must work harder to pump the same amount of blood; in addition, the body can lose the ability to regulate temperature. With the added exertion of winter sports, this can potentially be a recipe for disaster. To protect yourself, make sure to wear a backpack that contains a reservoir and consume 12-16 ounces of fluid (water or sports drink) per hour. We like the Camelbak's Powderbak, a mid-layer designed in both men and women's sizes that integrate a hydration system into a full-zip vest. The shell utilizes core body temperature to prevent freezing.
If you're feeling the heat in the midst of all your exertion, beware of stripping those outer layers. Exposed skin poses of a risk of sunburn or lacerations from falls. Always wear an SPF, and think about investing in some of the newer ski apparel, which is designed to wick away moisture while keeping your body heat regulated. We like The North Face Kannon jackets for both men and women, which are constructed with waterproof, breathable, seam sealed HyVent® 2.5L fabric. It also includes FlashDry™ technology, which dramatically improves wicking, dry time and breathability to keep you content over a longer period of exposure.
Benefits of Winter Activities: Improve Health and Beat the Winter Blues
While staying bundled next to a cozy fire watching movies and eating popcorn all winter may sound appealing, it can lead to serious repercussions, such as depression from lack of sun exposure. Weight gain from inactivity will not only increase your derriere but can lead to a host of health issues, such as diabetes and heart disease. So, get outside, try something new and have some winter fun. Your body (and mind) will thank you.
As the winter season begins, many people look forward to participating in activities carried out on snow or ice, like skiing, snowboarding, ice skating, hockey, and snowshoeing. Not only are these winter sports fun and exciting, but they also provide numerous health benefits. Exercising in cold weather can be great for your cardiovascular health, helping to get your blood pumping and your body to release endorphins for that feel-good sensation. Plus, when you exercise outdoors, your body needs to work harder to stay warm, which means you can burn more calories and exercise for longer. We'll explore the many benefits of winter sports, including how they help your body and mind, and provide tips for staying safe and healthy during the colder months.
Get Moving With Snow Sports: Discover The Exercise And Health Benefits Of Cold-Weather Activities
Snow sports like skiing, snowboarding, and cross-country skiing aren't just fun winter activities – they're also a great way to get exercise and stay healthy during the colder months. Cardiovascular endurance, leg strength, and core stability are all essential for navigating the slope and staying upright. Plus, skiing and snowboarding have been Olympic events for decades, showcasing the aerobic and muscular demands of the sport. However, it's important not to forget about your body's needs during these activities. Stay hydrated, dress in layers, and watch for signs of exertion in cold weather. With regular training, snow sports can help give your body a whole-body workout, burning calories and building strength in muscles and bones. So why not get moving with snow sports this winter and enjoy the benefits for your body and mind?
Combat The Winter Blues With Outdoor Exercise And Popular Winter Sports
The winter season can bring on the "winter blues," but combatting them can be as simple as getting outside for some exercise. Popular winter sports like skiing, snowboarding, and ice hockey are great for getting the heart pumping and building strength in the legs, arms, and core. And with the Winter Olympics highlighting the physical demands of snow sports, it's no wonder they're a popular way to stay active during the colder months. Don't forget to dress in layers and protect yourself from the flu and other germs. Getting outside in the sun, even at higher altitudes, can also boost serotonin levels and improve your mood. So, give your whole body a workout and combat the winter blues with outdoor exercise and popular winter sports this season.
Health Benefits Of Snow Sports: From Boosting Your Mood To Improving Your Athletic Performance
Snow sports like skiing, snowboarding, and ice skating offer a multitude of health benefits beyond just the enjoyment of being outside in the snow. They're great forms of cardio exercise, which can reduce the risk of heart disease and improve overall fitness levels. Working out on the slopes also engages a variety of muscle groups, including the thighs, triceps, biceps, and core, making you able to exercise for longer and harder. Plus, being outside in the snowy mountains can also expose you to the sun's rays, which can improve your mood and boost vitamin D levels. So, don't let the colder weather hold you back – take advantage of the many health benefits of snow sports and get out there for some fun and exercise.
How Winter Sports Can Boost Your Physical And Mental Health And Athletic Performance
Winter sports offer a unique opportunity to exercise in the fresh, crisp air while enjoying the beauty of the snowy mountains. Apart from being fun and exhilarating, winter sports such as skiing, snowboarding, and ice skating provide numerous health benefits. Engaging in physical activity, regardless of the season, is essential for maintaining good health. Winter sports offer an excellent way to increase cardiovascular endurance, build muscular strength, and improve balance and coordination. Additionally, exercising outdoors in the winter can boost your mood, reduce stress levels, and combat the winter blues. Regular participation in winter sports can also help improve athletic performance in other activities. As with any physical activity, it is important to take precautions to prevent injury and to consult with a healthcare professional before beginning any new exercise program. So, bundle up and hit the slopes for a fun and healthy winter season!
Conclusion
In conclusion, winter sports offer numerous physical and mental health benefits that can help combat the winter blues and improve your overall well-being. Whether you prefer skiing, snowboarding, ice skating, skateboarding or other activities carried out on snow or ice, these sports offer excellent cardiovascular workouts that help get your blood pumping and burn more calories. They also improve your endurance, strength, and flexibility, working your whole body, including the upper body, lower body, core, and thighs. However, it's important to be mindful of the risks, such as injuries and exposure to the cold and flu germs, and take precautions to minimize them, such as staying hydrated, dressing warmly, and doing regular training. With these factors in mind, winter sports can be an excellent way to stay active and healthy during the colder months.
Frequently Asked Questions (FAQs)
If you've still got questions about benefits of winter sports, then these may help:
What Are The Benefits Of Winter Sports?
Winter sports offer numerous benefits for both physical and mental health. They provide a fun and engaging way to stay active and maintain a healthy lifestyle during the colder months. Winter sports, such as skiing, snowboarding, and ice skating, can help strengthen and tone various muscle groups, including the hamstring, triceps, biceps, gastrocnemius, thigh muscles, abdominal muscles, and glutes. They also increase cardiovascular endurance and burn a significant number of calories. Furthermore, participating in winter sports can help improve mood and reduce stress levels, while exposing the body to natural sunlight and fresh air. However, it's essential to take precautions to prevent injuries and reduce the risk of getting sick in colder temperatures.
Is It Healthy To Walk In Cold Weather?
Walking in cold weather can be a healthy activity as long as proper precautions are taken. It can help improve cardiovascular fitness, boost mood, and increase energy levels. However, it's important to dress appropriately to avoid hypothermia and frostbite. Layering clothing, wearing a hat and gloves, and staying hydrated are all essential. Walking on ice or snow can also increase the risk of falls and injuries, so it's important to wear appropriate footwear with good traction. Additionally, it's important to listen to your body and adjust your pace and distance based on your level of comfort and fitness. Overall, walking in cold weather can be a healthy and invigorating activity when done safely and with proper preparation.
What Is The Main Focus Of Winter Activities?
The main focus of winter activities is to engage in physical activity in cold weather conditions, often in snowy or icy environments. These activities include skiing, snowboarding, ice skating, snowshoeing, and sledding, among others. Winter sports provide an opportunity to get outside and stay active during the colder months of the year. These activities can help maintain physical fitness, boost mood, and improve overall health. Many winter sports require significant use of muscles throughout the body, including the thighs, triceps and biceps, gluteal muscles, and abdominal muscles. They can also help improve cardiovascular health and build endurance. Some winter activities may also require additional safety precautions due to the conditions, such as wearing proper gear and staying hydrated.
What Is The Best Winter Sport?
Determining the "best" winter sport is subjective and depends on individual preferences. However, many people enjoy ice skating or ice hockey, which can be played on a rink, either indoor or outdoor. In the winter, it's important to maintain a comfortable core temperature and protect the airway from the cold. Comfort food can also be a great way to warm up after being outside. As spring comes, it can be harder to maintain winter sports due to the increasing intensity of sun rays. Off-piste skiing and snowboarding can be exciting, but require proper conditioning of the triceps, biceps, and gluteal muscles. For those looking for a more extreme winter sport, curling and BMX on ice may be options to explore. Regardless of the winter sport, staying safe and warm is essential, especially for those with underlying health conditions, who may benefit from consulting with medical professionals like Franciscan Health.