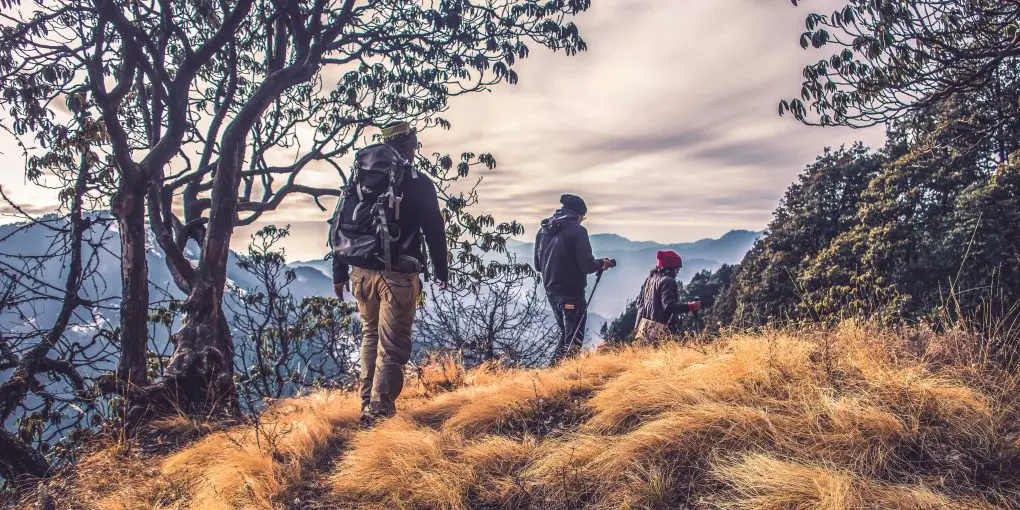 Take A Hike Out Of Your Chair Into Fresh Air
Discover The Best Hiking Trails In Sedona: Guide To Easy, Moderate, And Popular Best Hikes In Sedona
The physical benefits of hiking, as an excellent form of aerobic and muscle-building exercise, are well known. Add in the varied terrain, fresh air, flora, fauna and the whole wild world, and hiking becomes extraordinary. Hiking as a family gets us doing something interesting, educational and together. Away, for the moment, from technology, television and video games, families find an opportunity to bond with each other and with their environment, and see what an ecosystem actually is, firsthand.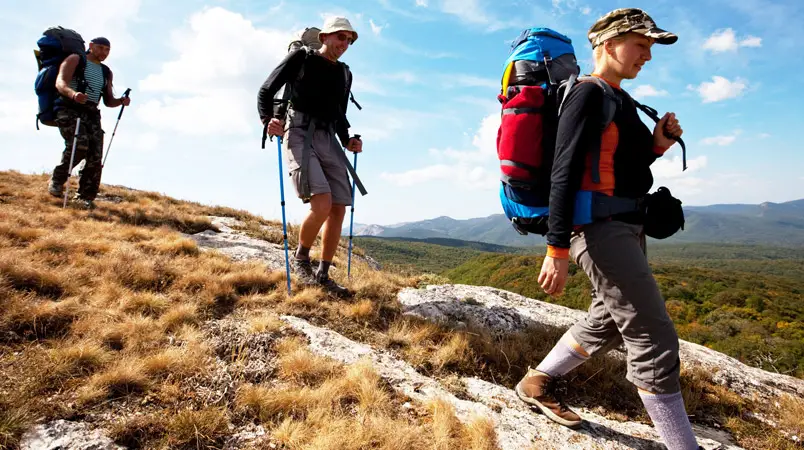 Wilderness Program Manager and Volunteer Coordinator Jon Erickson and Ranger Stephanie Ellsworth, who are with the United States Forest Service at the Pacific Ranger District in Pollock Pines, provide an evocative description of the effects of hiking. "Hiking is not just beneficial to the psyche but it is beneficial to the body and its health; it helps build strong muscles and heart," Erickson and Ellsworth say. "In some important way the experience gives meaning to one's life and helps to define who one is in relation to the world. It is also felt at a level deeper than the merely intellectual; natural environments seem to be the primary setting for spiritual experiences. For the nature-lover, trees and other natural entities can evoke awe-inspiring fascination and reverence. The forest or wilderness may seem like a paradise on Earth, a magical place of eternal mystery and perfection, far removed from the mundane world of everyday life."
The Desolation Wilderness area of the El Dorado National Forest southwest of Lake Tahoe is a popular destination for many types of wilderness hiking, at all levels of difficulty. Another good hiking area is the Auburn State Recreation Area (ASRA), which contains more than a hundred miles of trails. "You can choose the level of difficulty," says Sheila Toner, a retired Army colonel who now leads hikes for the Sierra Club. "A lot of these trails are out and back so you can go just as far as you're comfortable and come back again."
Toner also helps at the American River Conservancy (ARC), which is a non-profit organization in the central Sierra Nevada foothills. The ARC works with government agencies, private donors and foundations to acquire, preserve and care for natural areas. Michael Dotson, director of development and communication for ARC, says that there are many reasons he goes out on the trails. "I can break away from civilization, get away from that daily routine, the grind of work and the frustrations that come with it," he says. "You don't think about anything else but the trail that you're on, the scenic views you take in…For me, I'm not much to go into a gym and work out, so my exercise is hitting the trail, hiking, being outside.
Going into a wilderness area requires preparation, so it's a good idea to gather as much information as possible before heading out. Erickson and Ellsworth offer the suggestions below for hikers.
PREPARATION
Obtain a map of your destination and determine which areas are open to your type of travel.
Make a realistic plan and stick to it.
Always tell someone of your travel plans.
Contact the land manager for area restrictions, closures and permit requirements.
Check the weather forecast for your destination, but note that weather can change unexpectedly.
Plan clothing, equipment and supplies accordingly.
Dress in layers and always carry a jacket.
Carry a compass or a GPS unit and know how to use it.
Carry water and emergency supplies, even on short hikes.
Choose appropriate footwear for the terrain.
Solid, lightweight hiking boots are best.
Sandals can be used on trails in summer and around your campsite.
RULES AND COURTESY
Know your own physical, mental and technical abilities and your restrictions.Stay on the trails; don't wander off. Don't litter. All you should leave are your footsteps.Be environmentally aware.
DANGERS
Dehydration can kill and may be the biggest danger on the trail; many people underestimate the amount of water that they need, especially while engaged in vigorous activity. Carry at least 1/2 to 1 quart of water for each hour you intend to hike, and don't wait until your dehydration becomes a life-threatening emergency.Heat exhaustion is a heat-related illness that can occur after you've been exposed to high temperatures for several days and have developed dehydration. Try to find the nearest cool and shady place, drink plenty of water and remove any tight or unnecessary clothing.Just as dangerous as the poisonous creatures are the parasites you may encounter on the trail. Don't ever drink or swim in stagnant water, which can be the home of worms, bacteria and even deadly amoebas.
Sacramento, Placer and El Dorado County residents are fortunate to have access to many different types of natural and wilderness environments. Some are accessible only on foot or horseback; others, while natural and full of native wildlife, include conveniences that allow an opportunity to ease into a different element. A group of volunteers—known as Canyon Keepers—have come together to assist State Park rangers in ASRA to provide information on area trails. Their Web site, along with ARC's, displays a plethora of this information, but if you're ready to lace up your hiking boots and head out, here are some great areas to start your adventures.
EASY HIKES
Dave Moore Nature Area
Dotson suggests the Dave Moore Nature area as a good introductory hike for families, in a location with great natural beauty. The site is two miles west of Marshall Gold Discovery State Park in Coloma off Highway 49, and has a loop trail about a mile long that makes for pleasant hiking, picnicking, nature study, bird-watching, jogging, and is handicapped and stroller accessible. "You get to hike under the riparian zone tree canopy," Dotson says. "You'll also have the chance to hang out by the South Fork American River, as the trail goes along a couple of small beaches on the river. Pets are welcome and it's a great hike for small kids."
Stone Lakes National Wildlife Refuge
The Blue Heron Trail at Stone Lakes National Wildlife Refuge is at 1624 Hood-Franklin Road in Elk Grove. The approximately one-mile trail and seating pavilion is fully accessible to wheelchairs and strollers. Animal and bird tracks imprinted in the concrete walkways are fun for visitors to identify. A soon-to-be-completed natural playground will be mainly geared to 3-5 year olds. The wetlands area attracts numerous varieties of birds and other wildlife. Sandhill cranes are one of the main attractions in the fall. "It's really great to have a place where you can just come for a couple hours and sit in the pavilion," Assistant Refuge Manager Beatrix Treiterer says. "You can just kind of be quiet with nature."
American River Bike Trail
Easily accessed by car at many points along its 32-mile length, the trail accompanies the river from Old Sacramento to Beal's Point in Folsom. This paved, year-round, two-lane path is used for walking, biking, rollerblading, horseback riding, and is wheelchair accessible.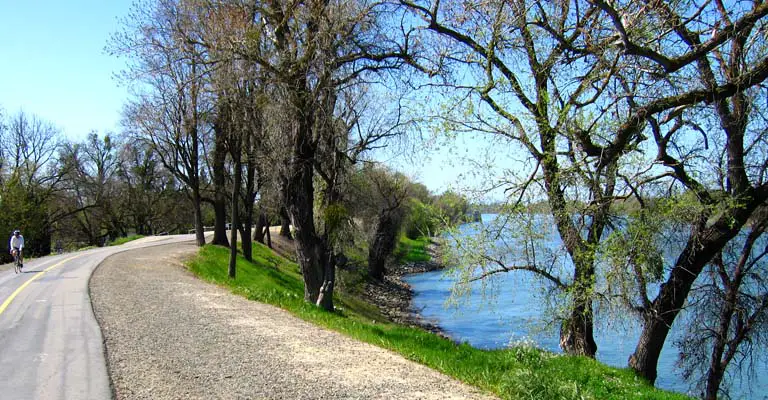 Quarry Road Trail
The trailhead is two miles south of ASRA park headquarters at 501 El Dorado Street in Auburn. Take Highway 49 south from Auburn, and turn right across the American River toward Cool. Turn left on a small dirt road, 1/4 mile south of the river crossing. The trailhead is beyond the parking area at a green gate. This trail is wide, level, and has picnic tables along the first 1 1/4 miles; total trail length is 11.2 miles roundtrip and goes through "some of the best scenery available in the American River Canyons." There is little shade so plenty of water and sunscreen are advised.
Hidden Falls
Hidden Falls—an approximately five-mile loop trail of easy to moderate difficulty—is part of the 221-acre Hidden Falls Regional Park at 7587 Mears Place, located north of Mt. Vernon Road, between Auburn and Lincoln. A wooden platform affords a view of the series of small falls, and a side trail that goes down to the creek near the falls, which is good for wading. "It's great fall, winter and spring hiking," Toner says. "In the summer, it's very hot."
MODERATE HIKES
Stevens Trail
To reach the parking area, which is on N. Canyon Way in Colfax, take I-80 east from Auburn to the second Colfax exit and turn left on N. Canyon Way, which is a frontage road. The small parking area is 0.6 miles from the exit and a sign marks the beginning of the trail. Although easily accessed from Colfax, Stevens Trail is remote, steep and narrow in places, so it is preferable not to hike it alone. Good for both hiking and biking, it's mostly shaded, but hot during summer months.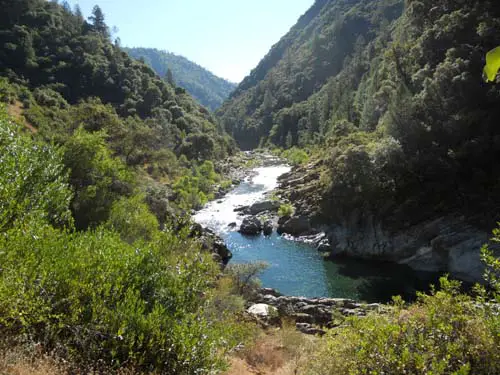 South Fork American River Trail
This trail system connects public lands along the South Fork American River with state and federal public lands around Folsom Lake at the Folsom Lake State Recreation Area. Three trailheads are accessed from Highway 49: Greenwood Creek river access, four miles north of Coloma; Magnolia Ranch Trailhead, five miles north of Coloma; and Cronan Ranch Regional Trails Park, located on Pedro Hill Road, 6.5 miles north of Coloma. A fourth, Salmon Falls/Skunk Hollow Trailhead, is on Salmon Falls Road, six miles south of Pilot Hill.
"The South Fork Trail is moderate in difficulty, due to its length and some slight elevation gain and loss, but it's totally suitable for even younger hikers," Dotson says. "It's not a beginning hike for kids, though. If people have seasoned kid hikers, maybe 11 and 12 years old and older, then it's worth considering. Mountain bikes and horses/equestrians are permitted on the South Fork Trail and Cronan Ranch. Dogs on leash are also allowed."
DIFFICULT HIKES
Pointed Rocks Trail
The trailhead is on Highway 49, 1.75 miles south of ASRA park headquarters at 501 El Dorado Street in Auburn. Take Highway 49 south from Auburn toward Placerville; after crossing the American River, park on the right (off the highway) and walk to the trailhead through the green gate. "From the Mountain Quarries railroad bridge, if people really want a strenuous hike, they can go up into the Pointed Rocks Trail, which is very steep," Toner says. "The local runners and horseback riders know it as the 'training hill' because they train for the Tevis Cup and the Western States 100 by going up and down that hill, because it's so steep."
Wright's Lake Area of Desolation Wilderness
From Sacramento going east on Highway 50, about eight miles past Kyburz, turn left on Wright's Lake Road; the lake, with parking area, will be at the end of the road. There are a number of trailheads near the campground at the lake. Permits are required for both day and overnight visits in Desolation Wilderness. Day visit permits are available at the various trailheads and at United States Forest Service offices in Pollock Pines and South Lake Tahoe.
HIKING RESOURCES
All Trails, alltrails.com
American River Conservancy, arconservancy.org
Canyon Keepers, canyonkeepers.org
Dave Moore Nature Area, blm.gov/ca/st/en/fo/folsom/dmna.html
El Dorado National Forest, fs.usda.gov/eldorado
Sierra Club, sierraclub.org
Sierra Nevada GeoTourism, sierranevadageotourism.org
Stone Lakes National Wildlife Refuge, fws.gov/stonelakes
Whether you're a seasoned hiker or just starting out, there are plenty of trails in the Sedona area to suit your needs. From short hikes with stunning vistas to longer hikes with challenging elevation gain and rock scrambles, Sedona has it all. The town of Sedona is surrounded by red rock cliffs and formations, and the hiking experiences here are some of the best in the country. In this guide to the best hikes in Sedona, we'll take you through some of our favorite Sedona hikes, including Cathedral Rock and Courthouse Butte, Bell Rock, Courthouse Butte, and Bell Rock Vista. We'll also provide tips on where to find the best views of Sedona, what to wear on your hike, and what to expect on the trail. So put on your hiking shoes, grab plenty of water, and let's explore the trails in the Sedona area.
Exploring Sedona: Hiking Trails, Trailheads, And Shuttle Services
Sedona, known for its red rock country, is a hiker's paradise with some of the best Sedona hiking trails in the region. There are plenty of trailheads and shuttle services available, making it easy for hikers to explore the many hiking options. From the Bell Rock climb to Cathedral Rock, the area is home to some of the most popular hikes in Sedona. The dry creek, rock formations, and vortexes make for an incredible Sedona hiking experience. Make sure to wear hiking boots and bring plenty of water. Whether you're looking for easy hikes or challenging ones, the surrounding Sedona area has it all. Don't miss out on the amazing hikes in Sedona and take some of the best photos of your time in Sedona.
Easy Hikes In Sedona: Fay Canyon, Bell Rock Pathway, And More
Sedona is known for its incredible hiking trails that offer stunning views of the red rock scenery. While many of the best hikes in Sedona require moderate to advanced hiking skills, there are also some easy hikes that offer incredible experiences for hikers of all levels. Fay Canyon and Bell Rock Pathway are two of the most popular easy hikes in Sedona that offer breathtaking views of the surrounding red rocks. Both hikes are easily accessible from trailheads in west Sedona and offer a great way to explore the red rocks of Sedona without having to climb to the top of a mountain. If you're looking for a more relaxed and enjoyable hiking experience in Sedona, these easy hikes are definitely worth checking out.
Moderate Hikes In Sedona: Brins Mesa, Courthouse Butte Loop, And Bear Mountain
Sedona is a hiker's paradise, and moderate hikes like Brins Mesa, Courthouse Butte Loop, and Bear Mountain offer some of the best views in the area. Each trailhead offers something unique, from the arch at the start of Brins Mesa to the red rock pass on Courthouse Butte Loop. These hikes are some of the most popular in Sedona and for good reason. The rock trails are well-maintained and offer plenty of opportunities to take in the incredible red rock scenery. Whether you're looking for a great hike around Sedona or recommendations for the best hikes in the area, these moderate hikes are sure to satisfy you. Don't forget your hiking boots and plenty of water for the climb to the top.
Challenging Hikes In Sedona: Devils Bridge, Birthing Cave, And Rock Pathway
Sedona is home to some of the most challenging hikes in the region, and adventurers looking for a challenge won't be disappointed. The Devil's Bridge hike is one of the most popular hikes in Sedona, offering breathtaking views from the top of a natural sandstone arch. The Birthing Cave hike is another challenging hike, with a steep climb to the top of a mesa, where visitors can explore ancient Native American ruins. The Rock Pathway hike is a thrilling adventure, with a difficult climb up steep rock formations, offering panoramic views of the red rock scenery. These challenging hikes are not for the faint of heart and require proper preparation and equipment, including sturdy hiking boots and plenty of water.
The Best Hike In Sedona: Choosing Your Adventure On The Canyon Trail
The Canyon Trail is often regarded as the best hike in Sedona. It offers breathtaking views of the red rock scenery and is a moderate hike that most hikers can handle. The trailhead is located near Uptown Sedona, making it easily accessible for visitors. The hike starts with a gradual climb that leads to a stunning overlook, then continues along the canyon, offering views of the surrounding Sedona landscape. The trail also passes by several unique rock formations, including the iconic arch of Devil's Bridge. While the entire hike can be completed in a few hours, hikers can choose to extend their adventure by exploring some of the side trails. Overall, the Canyon Trail is a must-visit for anyone looking to experience the best of Sedona's hiking trails.
Hiking Tips For Sedona's Incredible Trails: Merry Go Round Rock And Beyond
If you're planning to hike in Sedona, it's important to be prepared for the trails you'll encounter. First and foremost, be sure to visit the Sedona trailhead and obtain a Red Rock Pass, which is required for parking at many of the popular trailheads. It's also a good idea to research the trail beforehand, so you know what to expect and can bring appropriate gear and supplies. Some trails, like Merry Go Round Rock, are more challenging and require more preparation than others. Additionally, be mindful of the weather and bring plenty of water, sunscreen, and snacks for the entire hike. With these hiking tips, you'll be ready to explore the incredible trails in Sedona and beyond.
Conclusion
In conclusion, Sedona offers a plethora of hiking opportunities for all skill levels. Whether you're looking for an easy stroll or a challenging adventure, there's something for everyone. From the iconic Cathedral Rock to the lesser-known Merry Go Round Rock, Sedona's incredible trails offer breathtaking views of the surrounding red rock scenery. To make the most of your hiking experience, be sure to plan ahead, bring plenty of water and snacks, and wear appropriate footwear. Don't forget to obtain a Red Rock Pass before hitting the trails and respect the natural environment by leaving no trace. With its stunning landscapes and diverse trails, Sedona is a hiker's paradise that's not to be missed.
Frequently Asked Questions (FAQs)
If you've still got questions about where to hike in Sedona, then these may help:
How Long Does It Take To Hike Cathedral Rock Sedona?
f you're planning to visit Sedona and looking for the best trails in the area, Cathedral Rock should definitely be on your list. This incredible hike is one of the best moderate hikes in Sedona and is a popular trail among locals and tourists alike. The trail to the top is well-marked, and many hikers find it to be a challenging but manageable climb. The views of Sedona from the top are absolutely stunning, and it's a great spot for taking photos. The hike to the end of the trail takes about 1.5 to 2 hours, but if you're looking for a longer hike, you can combine it with other nearby trails like Bell Rock or Red Rock Crossing. The climb up Bell Rock from Bell Rock Vista Trailhead offers incredible views of Bell Rock, and hiking along the side of Bell Rock and across the Red Rock is one of our favorite hiking day hikes in Sedona.
What Is The Most Popular Hiking Trail In Sedona?
Cathedral Rock is one of the most popular hiking trails in Sedona. This trail offers incredible views of the Sedona red rocks and is a must-do for any visitor to the area. However, it's important to note that while Cathedral Rock is a top hike in Sedona, it might not be the best fit for everyone. It's important to research and choose the best hike for your skill level and preferences. With a variety of Sedona trails to choose from, including a list of hikes in Sedona, there's sure to be an incredible hike for everyone to enjoy.
Is The Sedona Shuttle Free?
No, the Sedona shuttle is not free. Visitors must purchase a Red Rock Pass to park at the trailheads, which is $5 per day or $15 for a weekly pass. The Sedona shuttle, operated by the City of Sedona, provides transportation to the most popular trailheads and requires a fee per person, which varies depending on the shuttle route. It is a convenient option for those who want to avoid parking hassles and traffic congestion, and it is recommended for visitors who want to explore Sedona's incredible hikes without worrying about finding a parking spot at the trailhead.
Can You Hike In Sedona For Free?
Yes, hiking in Sedona can be done for free. There are many trails and areas where visitors can explore without having to pay a fee. Some of the most popular and incredible hikes in Sedona, such as Cathedral Rock, can be accessed without having to pay for a Red Rock Pass. However, visitors should be aware that some areas and trails do require a Red Rock Pass or a parking fee, so it's important to research and plans ahead before heading out. It's always recommended to bring plenty of water, sunscreen, and appropriate gear for the hike.