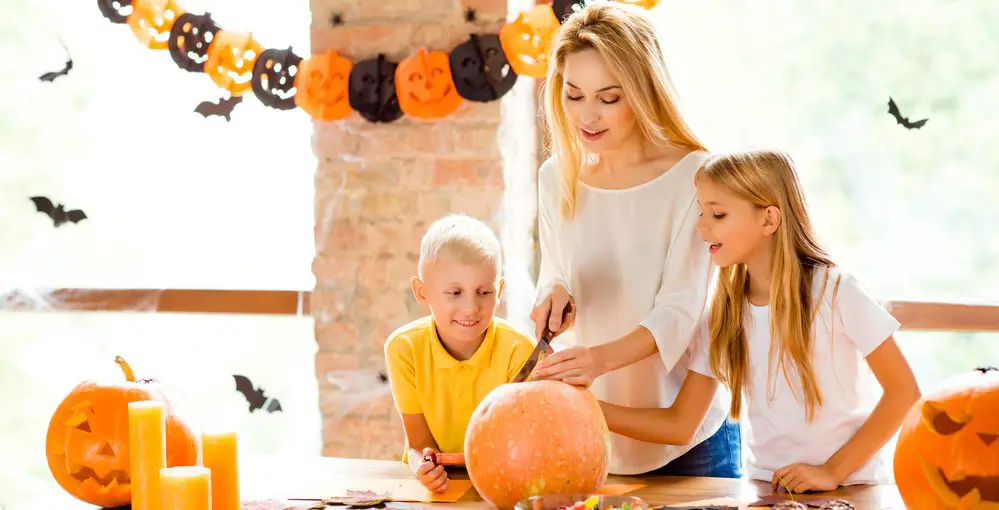 Ten Last Minute Halloween Costume Ideas for Kids
If you're managing the everyday busy-ness of family life, it can feel relentless. Sometimes you struggle through to the end of the week, finally sit down, only to realise you've forgotten some key element of your children's calendar. And Halloween can give the most organized parents the terrors – falling in the middle of a hectic school year, with homework and colds and after-school clubs to manage. The last thing you want to do during your precious evening time is make your little darlings Halloween costumes! But never fear. At PartyWorld, we are here to make sure your Halloween is truly frightful – and only in a good way. Here are our top ten last minute Halloween costume ideas for kids.
A ghost
An oldie but a goodie. Simply find an old bed sheet, cut out some eye-holes, and pop it over their head. It's a traditional costume but a highly effective one. If you are feeling creative you can sew down the sides of the sheet to ensure the effect isn't ruined by a glimpse of the outfit underneath. Should your little terror turn their nose up at your efforts, you could get your hands on one of PartyWorld's selection of ghost costumes. Whether they would like to be a friendly ghost, a scary ghost, or an evil ghost with an oversized head, don't let yourself be haunted by the situation, we've got the solution!
A scream
 A variation on the traditional ghost costume, this one can look really impressive. Although you may not have a black bed sheet to hand (unless you're already Morticia Addams), you might be able to get hold of stage blacks / backdrops or similar. If not, plain black polycotton from your local haberdashery will be inexpensive. Drape your child – once again sewing the sides under the arms for the full effect. This time, leave their face exposed. Then create your scream mask using simple plain white card and black markers. If possible add black gloves and black shoes for a complete scream costume. And if in doubt, PartyWorld's selection of scream costumes are crying out to be worn!
A bandit
This one is fairly easy to DIY. The key is a black eye mask – use card or even black felt with some elastic to keep it in place. Pop them in all-black clothes, but give it some swagger by creating a sash out of a red scarf. Use another scarf, or any larger piece of fabric, as a swag-bag. If you are feeling really creative, you could even stitch on a "swag" label. Optional extras include making a cape from more black fabric, and fashioning a cardboard sword. For the full effect, check out PartyWorld's bandit costume for kids.
A witch
The brilliant thing about a witch costume is that everyone is so familiar with the concept, meaning you can take it and tweak it to what you have available. Perhaps you have some stripey purple and black tights, which could take you in a fun-witchy direction; or a favourite stuffed cat toy that you want to use as a familiar. If you are able to borrow any gothic-style clothing this is great for creating a scary-witch effect – think lace, big black and silver jewellery, imagery that includes symbols such as the moon and pentacles. Witch outfits work really well if you can get your hands on a pointy hat. Tie together one longer stick with some smaller twigs at one end for an improvised broom. Use clever make-up to give the effect of warts and boils – or channel Morticia Addams and go for glamourous dark eyes and red lips (probably depending on the age of your child). If you need some witchy inspiration, PartyWorld stocks everything from a pretty pink witch costume, to a cheerful colourful witch costume; a scary black witch costume to a purple one. And if you're short on the essential accessories, look no further for spider witch hats, wigs of all kinds of spooky colours, and even fake noses, complete with warts!
A cat
Another Halloween classic. Cats have been associated with the occult for thousands of years, with black cats being especially known for their spooky sophistication. Simply reach once again for a plain black outfit, and then go to town on the accessories. Stuff one leg of an old pair of tights (use whatever you can – perhaps rolled up socks, or preferably wadding if you have it). Then use the unstuffed leg to attach your "tail" to a belt around the waist. Cardboard or black felt can be used to make an eye mask – or get the face paints out. Find an alice band and attach cardboard ears to either side. If you're struggling with the details, PartyWorld have the purrfect solution, with everything from a cat accessories set to a super-cute big eyed cat costume.
A bat
Once again we suggest that you dig out their best all-black outfit (are you sensing a pattern here yet?!) You will then need a reasonably large piece of black fabric that you are happy to cut into the shape of wings. Pin or sew this onto the black top at the nape of the neck, and then again at each wrist. This should create a fang-tastic effect when they spread their arms and announce that they simply must fly!
A vampire
If you're feeling slightly more adventurous, take the bat idea and spook it up a step further – create a little vampire. Accessorize the outfit with some luxury silks, and consider exchanging your actual bat-wings for something a bit more cape-esque. Something close to evening dress looks really effective for a classic vampire approach – think white dress gloves for boys, tuxedos, and a turned up cape-collar. Girls could go for long flowing evening dresses in reds and purples as well as blacks, with lace, corseting, and choker style necklaces all working well. Face paints will come in handy for making them look very pale, with dark eye sockets and perhaps a hint of blood at the corner of their mouth. Vampire teeth will be the prop that it is hard to fake at short notice, so take a look at PartyWorld's selection. From sets of vampire gnashers to full outfits, PartyWorld's vampire costume selection takes it all in from Morticia to Vampirina, whether their style is spider vampire, vampire princess, or Dracula himself!
A pirate
Once again, a pirate is a last minute costume gift, because there is so much room for interpretation. Ripped jeans, a white shirt, and a waistcoat make a good starting point. Colourful scarves can become headbands and sashes. Make sure you arm your little sea urchin with a good sword or cutlass – cardboard and some metallic paints or wrapping paper could come in handy here. Big leather belts look good either just as belts, or used across the body to hold weaponry. If you happen to have a parrot amongst your toy collection you could even try and work out how to attach him to your little one's shoulder! Use make up to stipple on beards, or go for the Jack Sparrow eyeliner effect. Eye patches are easy to make with some black felt and elastic, while if you're feeling really creative a cardboard hook is a fun extra. Scull and crossbones is the most recognizable pirate symbol, so see if you could stitch one on to the back of their jacket or waistcoat – or even use white felt and PVA glue. PartyWorld has a wide selection of pirate accessories, including full costumes for both girls and boys, so have a browse to get inspired.
A zombie
This is another beautifully simple idea that can be achieved with things you are likely to already have around the house. Hopefully you have some old clothes that you are happy to rip up – make them look as raggedy as possible! Then it is all about the make-up, and the acting. Pale faces, dark eyes, lots of horrible grisly wounds on show. Remind your little ones to moan and groan whilst moving very slowly (this outfit will possibly suit teenagers, just tell them to pretend it's 7am!).
Ghostbusters!
Finally, your kids might be hoping to be a character from one of their favourite shows. This presents much more of a challenge for a last minute improvisation (but check out PartyWorld's amazing selection of fictional character costumes, from Superman to Batman, Frozen to Star Wars). However, Ghostbusters is enjoying quite a revival due to the costumes that featured on the most recent series of Stranger Things – and here's an idea that you might be able to whip up at short notice. The classic Ghostbusters look revolves around the Proton pack. You could make this from an old backpack, or even a decorated cereal box. Attach an old vacuum cleaner tube or length of garden hose and use a toy gun as the handheld trigger. Find your child an outfit that resembles a beige boilersuit – perhaps you have a shirt they could wear. And you are good to go!
Here's to a less stressed, more marvelous Halloween – for kids AND their parents. Get creative and have fun making their Halloween costume – and if it all gets too much for even these simple last minute ideas, look to PartyWorld for help. Our extensive selection of Halloween costumes has you covered, from witches and wizards to Fortnite and Frozen.