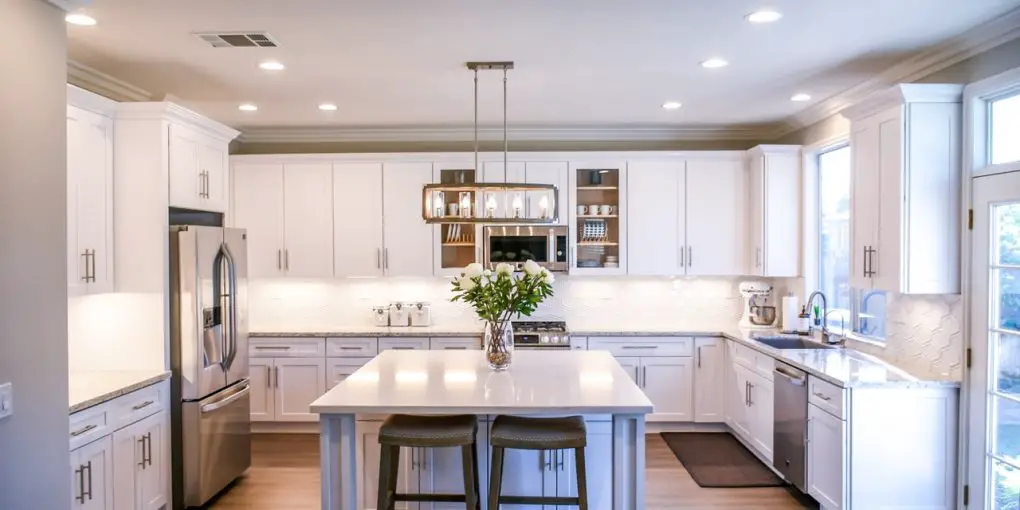 Natural Stone Countertops that Won't Harm the Environment
You have finalized the plans for a kitchen renovation project. The cornerstone, so to speak, of your carefully thought out plan includes adding a natural stone countertop.
The numerous benefits of installing a natural stone countertop convinced you to make the investment required to get the job done right. Natural stone exudes warmth to generate more energy for an already bustling room of your home. Adding a natural stone countertop also improves the functionality of your kitchen by giving you more room to prepare delicious meals, as well as extra spaces for entertaining guests. All of the benefits lead to the greatest benefit of all.
Installing a natural stone countertop will increase the value of your home.
Yet, there is one nagging question that you must answer. Does using natural stone to build a countertop hurt the environment? Let us look at how manufacturers use green techniques to design and construct natural stone countertops, before we review three natural stone countertops that won't harm the environment.
Eco-Friendly Manufacturing of Natural Stone Countertops
Manufacturers extract natural stones such as granite marble, and soapstone from solid rocks. The mining companies use diamond-tipped saw blades to produce slabs from large chunks of natural stones. With no need to polish the pristine natural stones, manufacturers use much less energy in the production of natural stone countertops than the energy used by companies that produce engineered stone countertops. Therefore, the carbon footprint for natural stone countertop manufacturers is considerably less than the carbon footprint left behind by engineered stone producers. In addition, natural stone countertops do not leach volatile organic compounds, (VOCs) which are the pollutants released from the engineered stones used to make kitchen and bathroom countertops.
How to Do Your Part to Go Green with a Natural Stone Countertop
Choosing a natural stone countertop that won't harm the environment is not just about the manufacturers. It is also about how you shop for a natural stone countertop.
First, use only new or reclaimed natural stone tile. If you love granite, then obtain granite slabs extracted from buildings, installations, and countertops that have seen better days. The remains from large stone slabs can be used to form natural stone tiles for both bathroom and kitchen countertops. Second, search for natural stone countertops that are offered by local suppliers. The closer you live to a natural stone countertop retailer, the less energy you will use to go back and forth from the business. Also consider local quarries that mine natural stones for the production of countertops. Finally, if you decide to use a sealant to prevent moisture damage, remember to use a non-toxic sealant that does not contain any VOCs. Refer to the expertise of your local natural stone countertop dealer to find the best sealant for your natural stone countertop.
3 Natural Stone Countertops that Won't Harm the Environment
We know that natural stone is the best countertop material option for the environment. The question now is which of the natural stones does the best job of protecting the environment?
Granite
As the undisputed champion of natural stone countertops, granite is available in tile form to help reduce the reliance on extracting granite slabs from large chunks of rocks. The rugged material is virtually invulnerable to prolonged exposure to high heat sources, such as a stovetop range. With around 3,000 different colors available, you can customize the design of a granite countertop to blend seamlessly with the design of the bathroom or the kitchen.
Granite slabs run between $40 to $60 per square foot, with granite tiles saving you money at between $5 and $15 for each square foot. The average cost of adding a granite countertop runs from $2,000 to $4,500.
Marble
With unique veining, marble exudes a level of elegant panache not seen with other types of natural stones. This means you can find a marble countertop that stands out in a crowded field of countertop designs. Water resistant marble is the ideal addition for a bathroom that needs a serious makeover. Marble also resists heat to make it the right choice for installing a countertop in your kitchen. The only thing that keeps marble from being the most popular natural stone used for countertops is its high price tag.
Soapstone
Typically, dark gray, with an almost silky feel, soapstone has increased in popularity in recent years as a substitute natural stone for granite. Over the course of several years, soapstone transforms into a glossy appearance that works well in bright kitchens and bathrooms. Considered one of the hardest natural stones, soapstone withstands the pounding of kitchen tools and the strong impacts of clanging pots and pans. Many home improvement experts state soapstone generates an historic ambiance for kitchens and bathrooms.
Choosing the right natural stone countertop for the bathroom or kitchen can be the best home improvement decision you will ever make. Now you know installing a natural stone countertop won't harm the environment.