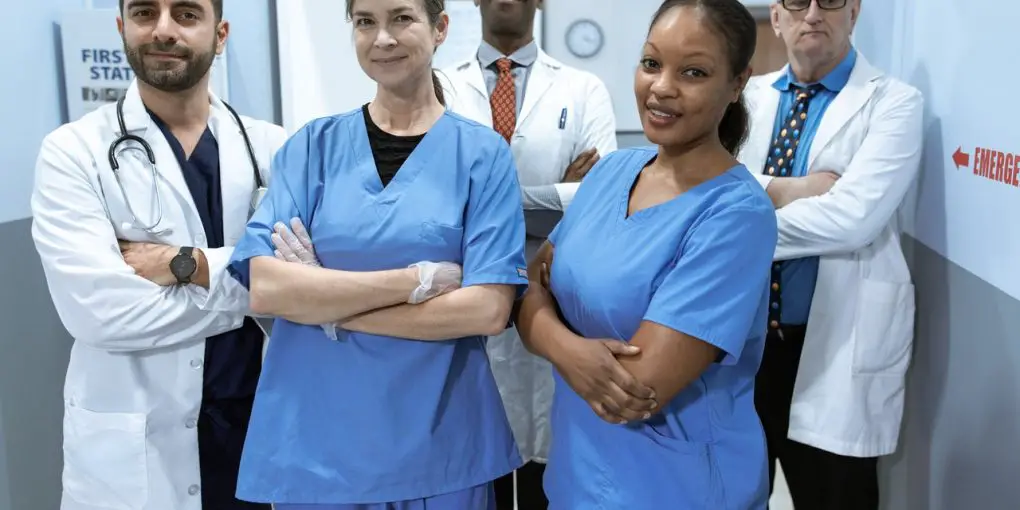 Advanced career options for nurses: the DNP and other ideas and inspiration for your future
Disclaimer: There are affiliate links in this post. At no cost to you, I get commissions for purchases made through links in this post.
If you are hoping to have a career in which you can help people every single day and make a real difference to the lives of them and their families, nursing is a fantastic choice. The current global COVID-19 pandemic has made this truth even more clear to us all this year and caused many people to start thinking about retraining as a nurse or other healthcare professional. It has also inspired those who are already working in the healthcare field to think about how they can take their nursing careers to the next level, and have an even greater impact on both their patients and society as a whole.
There are a whole wealth of exciting options for nurses who are looking to take the next step in their career, from doctoral-level degrees like the DNP (Doctor of Nursing Practice) or PhD (Doctor of Philosophy) to specialist qualifications that are related to certain specific patient populations or health conditions. The wide variety of paths available means that you are sure to find something that suits your personality, skills, interests, knowledge, and lifestyle.
In this post, we'll examine a selection of the career opportunities available to nurses, as well as why it's a great field to work in – plus give some advice on how to get started if you're thinking of retraining as a nurse. Hopefully, it will provide you with the ideas and inspiration you need to get your future started today!
What does a nurse do?
Before we start looking at the DNP and other advanced nursing career paths, let's go back to basics for those who are not yet in the field. We see nurses on medical dramas all the time, but these shows do not necessarily provide a complete picture of the role and its responsibilities. Therefore here's a quick overview of what to expect if you choose to train as a nurse.
Nurses can work in a variety of settings, including hospitals, doctor's offices, nursing homes, schools, colleges, specialist clinics, and so on. The exact tasks you will perform will vary according to where you are based and the type of patients that you see, but you can anticipate doing some or all of the following:
Taking patients' medical histories
Keeping patient records accurate and up to date
Performing physical examinations of patients
Running diagnostic tests
Administering medications to patients
Taking blood and performing other similar tasks
Treating wounds and performing other similar health interventions
Preparing patients for surgery or other medical treatments
Assisting doctors during medical procedures
Educating patients on their health, how to manage their conditions, and how to live a healthy lifestyle
Providing emotional support for patients and their families during difficult times
Working alongside other healthcare professionals as part of a multidisciplinary team
As you progress further in your career, the responsibilities you have will grow and develop. For example, advanced nurses may be able to undertake tasks such as prescribing medications and making medical diagnoses. If you go on to study for a DNP or other higher qualification, you may also be able to take on supervisory, and leadership roles, as well as have input on policies and procedures.
Why is nursing a good career choice?
There is a whole host of reasons why nursing is an excellent career to move into or progress further in. Not least of these is the significant impact you can have on the lives of your patients. Working every day in a role that helps people can be extremely rewarding, and the majority of nurses report that they are glad to be a nurse and feel satisfaction in their role. This is true whether you have studied to DNP level, or whether you are a fresh-faced recruit.
What is great about nursing is that this feeling of job satisfaction is not the only reason it is a good career choice. The US Bureau of Labor Statistics states that job growth in the industry is projected to grow faster or much faster than average over the next ten years (particularly for those roles that require a higher degree such as a DNP). This means that being a nurse can also offer you high levels of employability, job stability, and financial security. Much of this is due to the current shortage of nurses in the US, in addition to increased demand as a result of higher rates of many health conditions including cancer, diabetes and obesity.
Another reason why becoming a nurse can be a great job choice is the variability it offers. As you progress in your career, you can choose to specialize more and more in the sphere you find most interesting. For example, you can opt to work with the elderly or with children or dedicate yourself to helping those with mental health conditions or specific diseases such as cancer. Plus, you can later choose to move into administration, management, education, research, or other high-level areas if that appeals to you by taking a DNP, PhD, or other top qualification. The possibilities are endless!
What kind of person makes a great nurse?
To succeed as a nurse, there are many qualities and skills you will require. Some of these are clinical knowledge and practical skills that you will learn as you complete your bachelor's or Master's (MSN) degree in nursing. Others are higher-level talents that you will develop during a DNP or PhD. Many, on the other hand, are personality traits that you'll either have naturally or develop more organically.
For example, the most obvious of these is empathy and compassion. The essence of being a nurse is providing care and support to others, and these characteristics are vital for doing so. You will potentially be assisting people during some of the most difficult times of their lives, and how you do so will be key to how well they can cope.
Of course, it is not only about being compassionate. There are some key practical skills you will need to. For instance, communication is key. You will be dealing with a wide variety of people from all ages and backgrounds, explaining healthcare treatments and conditions that may be complex and hard to understand. Likewise, you will need high levels of organization, time management and attention to detail to be able to complete your tasks to the high standard that is required.
The long hours and physical work that nursing often involves also mean that stamina and a sense of humor will put you in good stead! Meanwhile, flexibility and adaptability are vital for enabling you to deal with the inevitable unexpected situations that arise. Do not worry if this all seems overwhelming, though, as studying for your DNP or MSN degree will help you to develop the skills to succeed in the role.
What options are there for career advancement within nursing?
As you have seen above, the opportunities available within the sphere of nursing are many and varied. The following are just a selection of these, to help motivate and inspire you. As a rough guide, they are separated into roles involving direct patient care and those roles that are more concerned with indirect patient care. The vast majority require you to have an MSN, whilst having a higher degree such as a DNP will be extremely advantageous (and sometimes necessary).
Direct patient care
For those who love working directly with those in their care, the two main choices you can make are to focus on a particular type of patient or a particular health condition. The former includes pediatric nurses, who work to provide specialized care to children, and geriatric nurses, who focus on the care of elderly patients. You could also become a neonatal nurse, helping care for premature babies, or a nurse-midwife. This involves delivering babies, as well as helping new parents with information and support.
If you would rather specialize in a particular health condition, the options are unsurprisingly broad. For instance, dialysis nurses assist with kidney problems, oncology nurses support cancer patients, and pain management nurses help those with pain issues. You could also choose to focus on patients with diabetes, psychiatric conditions, orthopedic conditions, or trauma-related injuries.
Another option is to specialize in nursing in a particular location. This could be schools, summer camps, correctional institutions, patients' own homes, or even internationally with the military or volunteer projects.
Indirect patient care
When it comes to indirect patient care, again, there is a multitude of different paths to choose from. One option is to study for a PhD and move into academia by becoming a nurse educator, who trains up the next generation of nurses, or a researcher. Alternatively, you could study for a DNP program that focuses on an area such as management or leadership. This could lead to working in the development of health policies or acting as an advocate for the nursing profession.
Management roles in nursing tend to involve a variety of leadership and administration tasks. These include coordinating healthcare, creating schedules, recruiting nurses, making budgeting decisions, and supervising the work of other nurses. With a DNP you could also aim for a top-level role such as a chief nursing officer, which could involve advising on best practices and ensuring quality standards are met, representing nurses on board meetings, and facilitating the professional advancement of those nurses who work under you.
For something more unusual, you could combine nursing with the study of law to become a nurse attorney or consultant, or a forensic nurse helping care for those who have been a victim of crime. Other alternatives include becoming an informatics nurse and working with technology and data, or a nurse writer for a medical journal, newspaper, or other relevant outlets. Perhaps you could even write a book on nursing, or work on a television program featuring nurses!
How do I get started with a career in nursing?
Before we start looking at advanced degrees like the DNP, to begin your journey towards becoming a nurse, the best option is to take a bachelor's degree in Nursing (BSN). This will give you a fantastic set of skills and the background knowledge you need to start your career, combining academic study with practical, hands-on experience.
Alternatively, you could opt to study for a master's degree in Nursing, or MSN, which will enable you to work in more advanced roles. This can be a great option for those who already have a bachelor's degree in a different major, allowing you to switch career paths without having to start right at the beginning again. In this case, the program would take you three years instead of two.
Given that we are talking about advanced career options in this article, it is important to also look at the doctoral level programs:
DNP – Doctor of Nursing Practice
PhD – Doctor of Philosophy
DNS – Doctor of Nursing Science
These are all terminal level degrees, meaning they are the highest level of academic study you can undertake as a nurse. They prepare you for the very top job roles in the field, with the PhD and DNS focusing on research, whilst the DNP focuses on clinical leadership and putting theory into practice. Whichever you choose, the program will likely take between three and six years to complete. This will depend on factors such as whether you decide to study on a part-time or full-time basis. Generally, you will need to have your MSN already to be eligible to enroll.
These days the DNP and several other nursing degrees can also be taken as online programs, allowing you the flexibility to study when and where you want, at a pace that suits you. This is convenient for those who want to work alongside their studies, or who have family commitments that might make attending classes in person challenging. Be aware you will still have to do some in-person clinical hours as part of the DNP or whichever program you choose to take. Good luck!