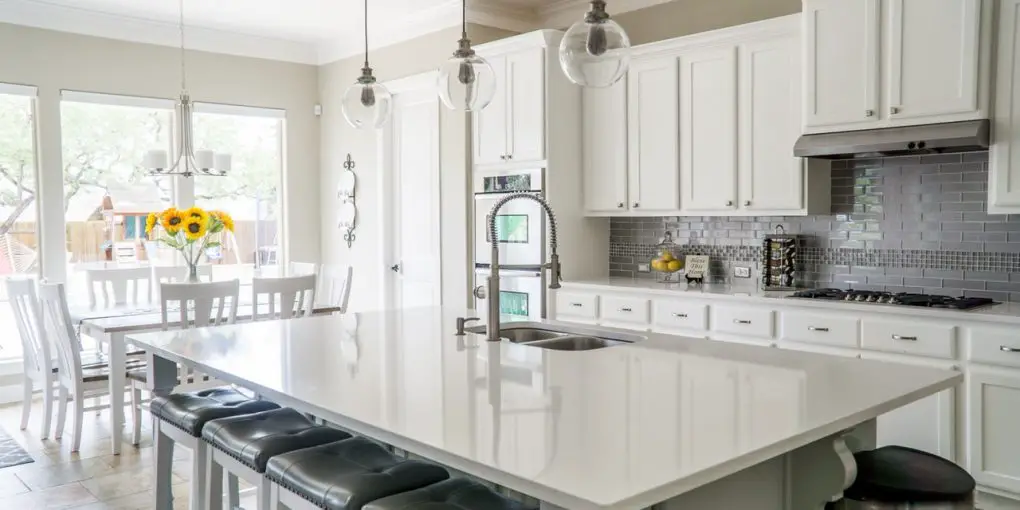 6 Ways To Upgrade Your Kitchen Without Breaking The Bank
Modern architecture and design has a certain appeal that can't be found in old designs, everybody would prefer to live in an elegant home with modern architecture, and if you spent a lot of time in the kitchen, you would want it to be up to date as well, but most old homes have very simple and dull kitchens. (Check out our article on does salt kill yeast in pizza dough)
Now, you can remodel the whole kitchen, to give it a new look, but as we all know, that can be a little expensive. Instead of a full-scale remodeling, you should try some other kitchen upgrades that will take your kitchen to the next level without breaking the bank. Here is a list of some amazing upgrade ideas for the kitchen, which are budget-friendly and very elegant.
Anthony Henson has been covering consumer technology for a decade now. He currently covers consumer electronics in the PC Labs as the in-house home entertainment expert, reviewing TVs, media hubs, speakers, headphones, and gaming accessories. He regularly writes blogs at .
Repaint the walls of the kitchen
Repainting a room is one of the cheapest, yet most significant upgrades to its decor, you can add a lot of style and elegance to your kitchen if you use the right color pallet. Instead of the dull and drab colors that most old kitchens are painted in, you should try to use some more modern and vibrant colors. Paint the walls neutral and add an accent of bright and vibrant colors. You can also paint one wall in a vibrant color while keeping the rest neutral. Repainting is a great way to change up the look of your kitchen on a budget.
After you are done with the walls, you will also need to repaint the cabinets to match the walls. This is another significant and relatively cheap upgrade. The cabinets cover a lot of real estate in your kitchen and repainting them can change the whole look of the kitchen. 
Add some new countertops and backsplash
Countertops are a major element of any kitchen, and if you have the right kind, your kitchen will look amazing. Instead of the old wooden countertops that are found in many old kitchens, you should go for some stone countertops. Now, we know what you are thinking. Stone countertops are expensive, right? Well if you know which ones to buy you can get a great look for a small price. Granite countertops are most commonly used in modern kitchens, and they look amazing. But you can get a similar look, for a lower price if you use marble countertops. You can also go for steel countertops like the ones in restaurant kitchens. 
After the countertops, you should also think about adding a new backsplash. The purpose of a backsplash if to keep the walls behind the sink safe from splash marks of water. The best option is to add a tile backsplash, which is very affordable and elegant. There are loads of options for tile backsplashes in the market, so, choose the one that goes well with your paint color. 
Add some new lighting features
The lighting of any room has a very significant part to play in setting its decor and design, and most old kitchens usually have very bad lighting, you should consider upgrading the lighting fixtures of the kitchen if you want a modern look. Start by installing multiple LED lights on the ceiling to make sure that the room is well lit, then add some stylish light fixtures like pendant lights over the center island or the bar. You can also add some LED light strips under the cabinets to light up your countertops. If you combine all these lighting fixtures, your kitchen will look amazing, and it will be easier for you to maintain and use it as well.
Add some new appliances to the kitchen
Upgrading the kitchen doesn't only mean upgrading its design. You should also upgrade the appliances and cookware you use in the kitchen. This is important to make your kitchen more versatile and convenient. Start by upgrading the essentials where possible, now it is hard to buy a new refrigerator, but you can get a new food processor and stand mixer. Buy some appliances like a sous vide machine and a pasta maker, that allow you to make new and unique dishes. If you can afford it, you should also think about getting a dishwasher to make the maintenance of the kitchen much easier. You can also get some appliances like a toaster, sandwich maker and waffle maker. For a complete upgrade, you should get a new gas burner or grill, because the burner stove is the most important part of a kitchen. Have a look at weber spirit e210 review, if you want to buy a new liquid propane burner stove for your kitchen. If you want to have a modern kitchen, then these appliances are essential.
Upgrade the floors
The floor of a room is another major element that is usually ignored, if you are lucky, you may already have an amazing hardwood floor, but in case you don't, you should consider adding some style to your floors. You can make your floors look amazing simply by re-sanding or polishing them. This is a very simple and inexpensive way to make your kitchen look new and elegant. Another option to improve your flooring without spending too much money is to add some new tiles. If you are looking for a cheap solution that looks like hardwood, then you can add some waterproof vinyl floors that have a hardwood design.  
Build a center island
If you want a modern and upgraded kitchen, then a center island is a must. You will hardly find any modern kitchen without a center island. The center island adds a lot of space to your kitchen, and it makes difficult tasks much easier. You can also create drawers and cabinets under the center island to improve storage as well. Another advantage that the center island adds to the kitchen is that you can create an amazing dining area around it. Add two or three barstools to one side of the center island to make a small area to dine inside the kitchen. This is a great way to increase your workspace and make your kitchen a lot more convenient and elegant.
Author Bio:
https://www.helpful.reviews/en