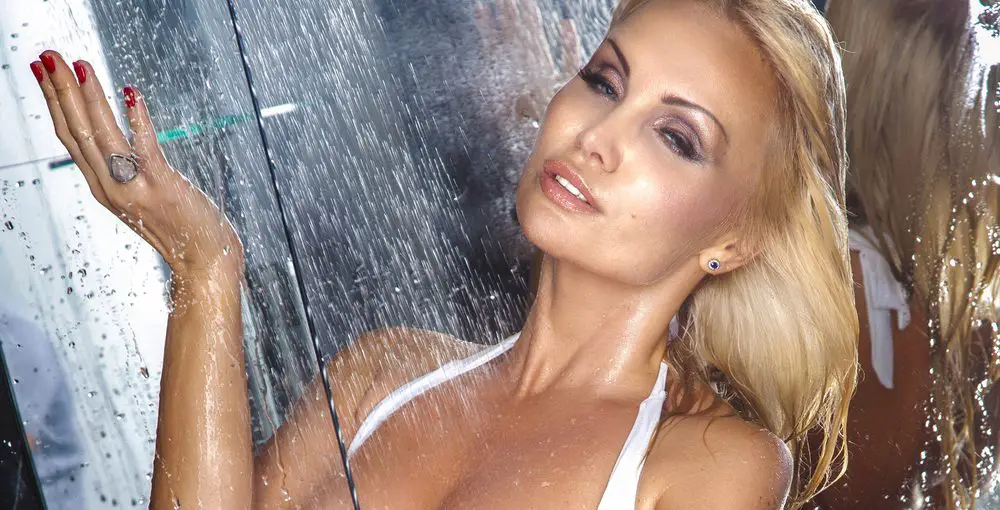 The Right Corner Shower Dimensions For You
Disclaimer: There are affiliate links in this post. At no cost to you, I get commissions for purchases made through links in this post.
Who doesn't want to integrate the aesthetic and practical brilliance of a shower door in their bathroom?
But the lack of available space is usually the setback that most homeowners face. Luckily, there are different shower enclosure designs available now that are specially designed to cater to the limited space issue. The corner shower is one of the most effective glass shower enclosure styles for small bathrooms. We will discuss this enclosure style and the recommended corner shower dimensions for a small bathroom interior in this blog.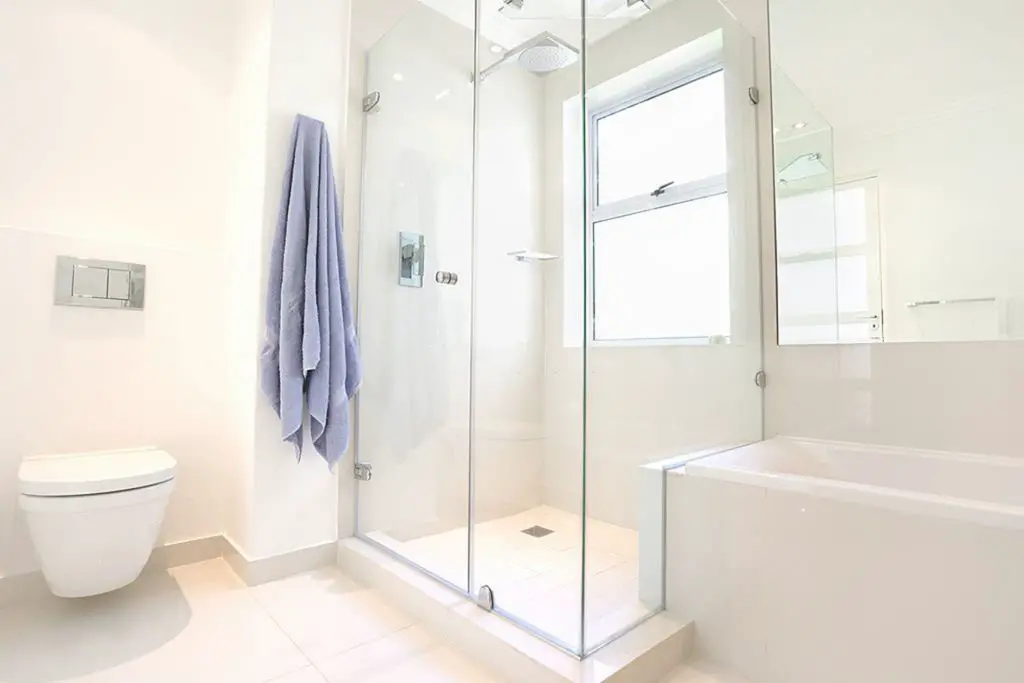 Corner Shower – A Space Savvy Idea 
As the name suggests, a corner shower is designed to fit in the corner of the bathroom. It serves as an alternative to the conventional showers that typically occupy a lot more area.  A corner shower is an effective option for small bathroom spaces as it brings unused bathroom corners to use. 
Corner showers are available in a wide variety of sizes and designs. The design details are different for each bathroom space. The corner shower is also called a neo-angle shower but in some cases, the curved enclosure style is also used. 
Why Choose A Corner Shower Enclosure? 
There are a number of reasons that make corner shower enclosures a worthwhile investment. Let's have a look at some of them. 
Visual Appeal – A corner glass shower enclosure has the flair to transform your bathroom from a simple to a contemporary one. 
Design Versatility – These enclosures can be tailored according to any decor style. You can choose geometric, curved, or neo-angle enclosure styles according to your bathroom space. They also come with multiple accessory options, hardware choices, and construction styles to blend in with the rest of the bathroom. 
Space-Savvy Design – These enclosures are space-efficient. Instead of taking up bathroom space like the standard shower enclosures, they bring the most overlooked corners to use. 
Door Options – Most shower enclosures are designed to support swinging, sliding, or hinged doors specifically. However, with the corner enclosure, you have the option to choose any door type according to the given space and your preferences. They work great with swinging, sliding, bifold, as well as hinged doors. 
Low-Maintenance – Just like other shower enclosures, corner glass enclosures are easy to clean and maintain. 
More Shower Space – Corner showers practically take up less space than standard enclosures. Instead of taking up square floor space, they maximize the corner space. Thus covering less floor space. 
What is the Standard Size for a Corner Shower?
A corner shower should be 36″ by 36″ in size. Since this is quite a modest size requirement, most bathrooms are able to accommodate it. 36" by 36" is the standard size requirement, you can go for different dimensions if the bathroom spaces allow it. There are a lot of alternative sizes available to fit different bathroom size requirements. 
What are the Common Size Variations?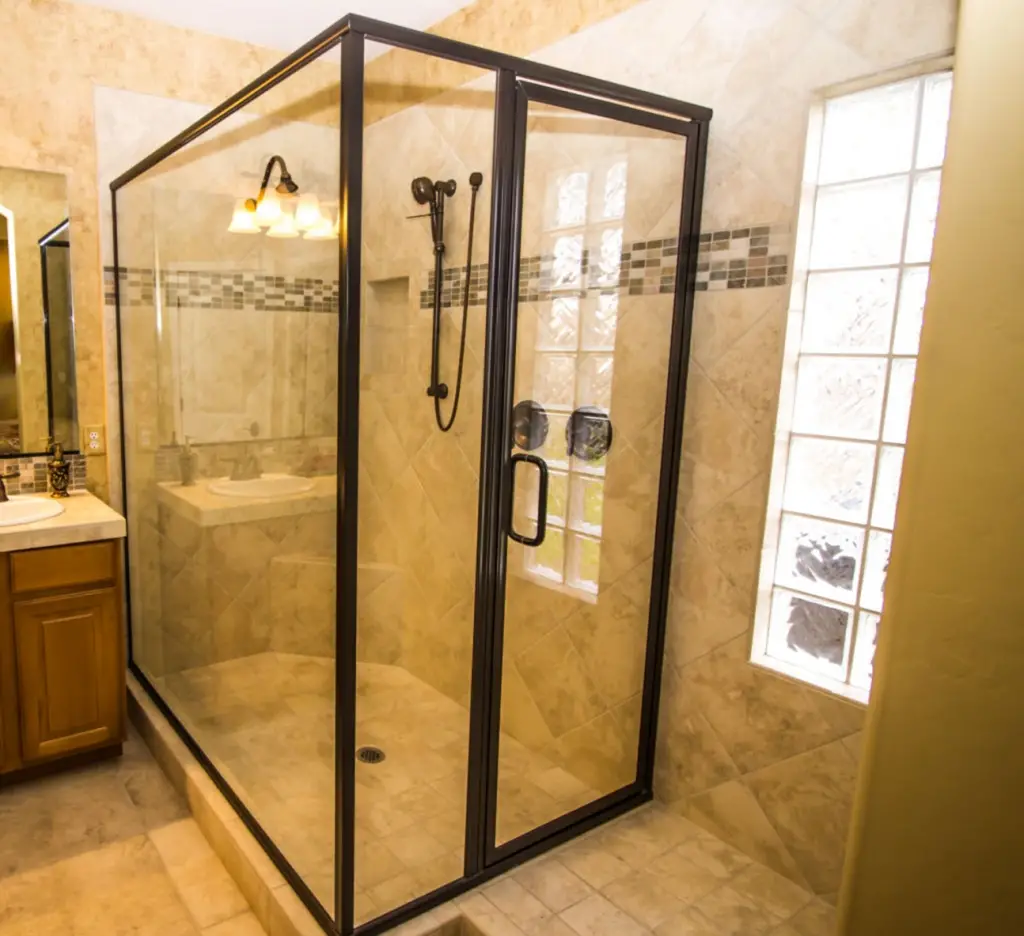 Shower enclosures are a customizable design feature.  Most fabricators allow size, shape, design, and style customizations. However, there are still some standard sizes in which pre-made enclosures are usually available. Some corner shower dimensions also come under standard variations. Here are the common corner shower door unit sizes. 
32″x32″ 
34″x34″ 
36″x36″
38″x38″
42″x42″
What are the Space Requirements for Installing a Corner Shower Enclosure?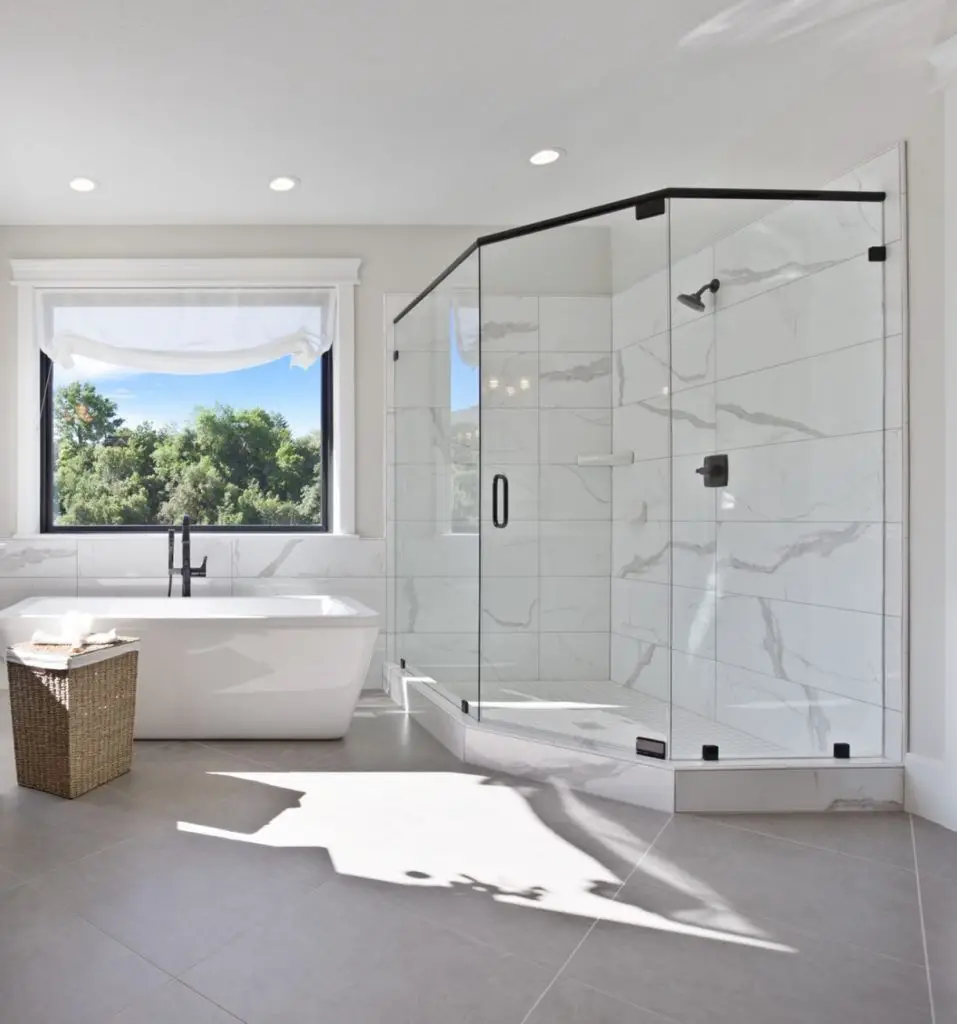 The corner shower enclosure is the most space-efficient enclosure style. Still, the questions revolving around its space requirements are pretty prevalent. 
Size – In theory, the suitable sizes range from 36" to 48" but the space requirements may vary in ground reality. There are many different factors at play when considering the space requirement for the corner shower enclosure. Showers come in sizes ranging from 23 x 23 inches to 48 x 42 inches with many size variations in between. You cannot label a shower enclosure as the right size without analyzing the individual user requirement. Even though it takes minimum floor space, still it's important to consider the bathroom space to claim the space requirement for a corner shower enclosure.
Depth – The depth of the corner shower is another important deciding factor. A deep shower takes up more room and adds more luxury to the bathroom. The depth of a standard corner shower is typically in the range of 17′′ to 20′′. 
Space Alignment – Some bathrooms are built on standard dimensions while others follow irregular measurements. The type of corner shower enclosure depends on the alignment of the bathroom. A standard corner shower would work fine for a regular bathroom space. But a custom corner enclosure would be required to fit in an atypical bathroom space. 
The best way to choose a proper neo-angle shower enclosure is to get professional help. Hire an expert or get an online quote before investing in an enclosure. It's always better to back up your judgment with some expert opinion. 
Final Words
Whether you are setting up a huge bathroom or a small one, make sure to maximize the given space by making the right choices. For a successful remodeling project, you should take into account a number of factors from storage and floor space to which bathroom fixtures should be installed, consider each detail and choose accordingly. Instead of giving up on your interior preferences, choose the right design element and make the most of the given space. There is no doubt about the functional value of a corner shower for small bathrooms. So if you have got a small bathroom, go ahead and get a corner shower enclosure.