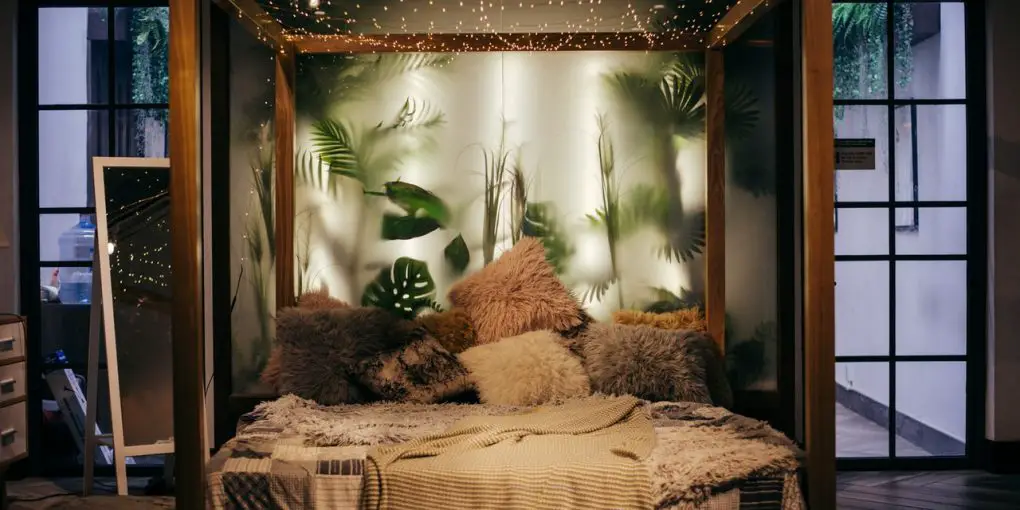 Easy Ways to Remodel Your Modern Bedroom
Disclaimer: There are affiliate links in this post. At no cost to you, I get commissions for purchases made through links in this post.
Remodeling your bedroom doesn't have to be a scary task. As a matter of fact, they are very projects to undertake if you know a couple of important tips.
However, before you begin the remodeling process, you must first be convinced about how you want your room styled, and what would cause a glow of peace to envelope your bedroom each morning as soon as your eyes are opened.  Sounds a bit weird… but you could repurpose concrete blocks to make a pretty sight of a nightstand on which you can place a vase of flowers.
Are you ready?
Let's dive in:
1. First things first: Getting Rid of Clutter
This might sound basic, but as soon as you get rid of all that clutter and re-organize your space, everything starts to look brand new. Clutter does not only have to deal with clothes or unnecessary stuff- it could also include your favorite pile of books carefully stashed by your bedside (Do you really need that many books by your bedside, or are you just addicted to the feel of having them so close by?)
Inclusive of clutter is, of course, the unused stuff in your wardrobe/closet such as clothes and shoes. Your bedroom would be better for it, and can finally be remodeled.
2. Dab On Some Fresh Paint
Want to change the overall look of your room? Some fresh paint would do the trick without much ado. The most important step here is choosing a color that works best with your room and enhances its look. If your taste is modern, look for ultra-modern colors such as beige to spice up your room and give it a bold yet subtle look. The good thing about painting is that you can try severally to give your room a certain look, with different colors of paint.
3. Let's Talk About Those Windows
What's so important about your bedroom's windows?
Actually, it's the window covers I'm more concerned with. As bedrooms are usually smaller and you might not be able to squeeze in large furniture, you can pull your magical stunts on the windows.
After you must have decided if you're prepared to spend money on curtains, shades or blinds; make a fab choice out of them. If you eventually consider curtains, velvet is a good idea as it blocks out the early morning sunlight without the additional burden of being heavy.
4. You Never Go Wrong with Art
Have a favorite work of art that keeps you in awe? Hanging it in your bedroom is so modern and retro at the same time. Make good use of your wall space with sweet works of art.
5. Comfortable, Pretty Linens Are a Must
You can get bed linens that are both comfortable and pretty, but if you must choose, go with comfort! However, it can still be quite pretty.
6. Good Lighting Anyone?
No matter how much you spend touching up your room, the work isn't complete if there's poor lighting in that room. Just the right balance between excess bright light and some degree of dimness is needed in the bedroom- and you should, of course, be able to change the light's intensity to suit your moods. Installing a dimmer can help reduce overhead glare significantly. Lamps might also be helpful here.
Ever considered how using an electric fireplace insert such as dimplex optimyst insert, might be a creative way of spicing up the lighting of your bedroom? Super cute idea, right?
7.     Add in Some Dope Furniture…
Now, the thing about furniture is that it has to fit into the setting of your room, so it should be one of the last things you reach for. Don't be too quick to discard your old furniture, you might just need a little bit of touch up to make it perfect.
8. Wooden Head bed
This can be an interesting choice for a head bed, but if you're looking to go creative, why not?
9. Display Pictures on the Wall
This makes you both cool and really thoughtful- especially if the pictures are of loved ones.
10.  Concrete Blocks as a Nightstand?
Sounds a bit weird…but you could repurpose concrete blocks to make a pretty sight of a nightstand.
 Wrapping Up
There you go with ideas to remodel your modern bedroom! Now, let's get to work and bring these ideas to life.