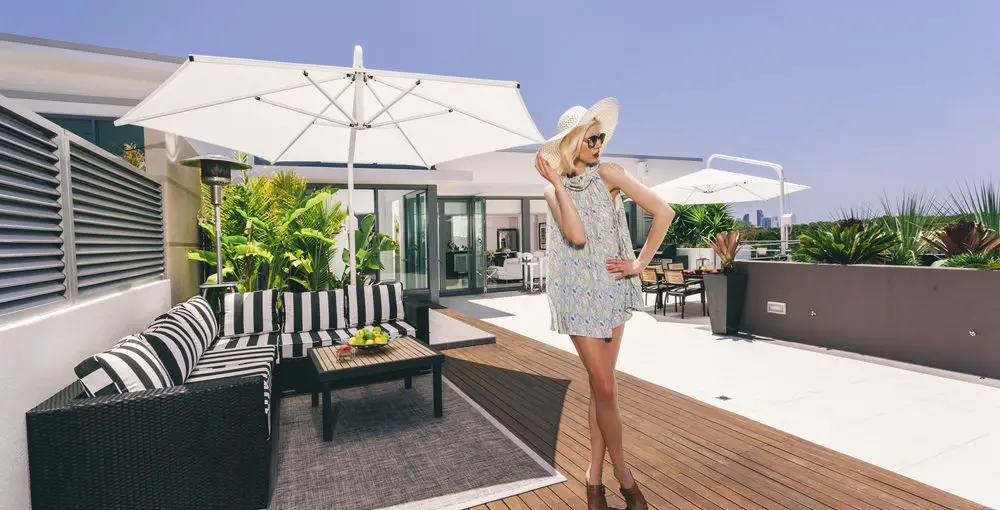 Decking Guide: 10 Major Differences Between Composite and Wood Decking
When researching the type of decking to spruce up your outdoor space, you may be overwhelmed by the many choices available on the market, whether choosing which colour, material or company. If you are trying to decide between wood and composite decking, then you must compare the two to make the better choice for your landscape. We have curated a list of the differences between wood and composite material to aid you in this process.
Water absorption
One of the major differences between wood and composite decking is the amount of water absorption the board will experience. Wood decking will absorb much more water than composite due to the composite material's composition. Composite is manufactured using both plastic and wood fibres which provides the properties of plastic which, includes water resistance. Therefore, this makes composite the ideal choice for water absorption. Also,  you are less likely to experience moisture-related issues such as warping.
Available colours
Although wood can be painted with any colour you desire, composite decking is manufactured in various colours and surface finishes that don't require painting or staining to retain their appearance. Composite decking is available in a variety of colours, from traditional wood colours to modern greys or even more statement colours, such as greens or reds.
Cost
A major difference between wood and composite material is the cost per board. When you start researching both materials, you will notice that composite has a higher initial upfront cost; however, don't let this put you off, as composite decking is an investment and pays for itself over time through maintenance. Composite decking boards lasts much longer than wood counterpart, requiring less time and money spent on repairs or replacements years after installation. You can buy composite boards at budget-friendly prices from any UK decking company. Ensure you check the warranty before finalising your purchase.
Maintenance required
Composite material is a minimal maintenance solution to wood material and requires much less maintenance to retain its appearance and reach its extensive lifespan. Wood decking needs painting, staining and sealing to keep it looking its best and preserve its service life, whereas composite does not. As composite is made with plastic fibres, it is more resistant to the elements and does not need any added protection from sealants. Therefore, composite is an ideal choice for busy homeowners looking to save time and money on maintaining their deck.
Longevity
One of the many benefits of composite is its extensive service life. The average lifespan of wooden decking is 8-12 years, whereas composite usually lasts 25 years with proper maintenance. The longevity of composite is much greater due to its resilience and durability, meaning if you are looking for a decking option that you won't have to replace a few years down the line, composite is the best bet for you.
Resistance to weather
Composite material has resistant properties against both moisture and UV rays from the sun, making it a perfect outdoor material for any landscape. With any outdoor material, you can expect to experience fading from the sun, but composite has colour-stabilising features to reduce fading as much as possible. With first-generation composite, you can expect an estimated 30% fading, whereas second-generation composite is only 5% fading, barely noticeable to the naked eye. Wood decking is much less resistant to weather and, therefore, will experience more rotting, warping and cracking issues.
Surface finish
A big difference you may notice when comparing wood and composite is the surface finish of the material. Composite is created to look like wood without the disadvantages of timber material. You can choose a grooved surface finish or a wood grain surface finishes with your composite decking. The boards are moulded into shape through their manufacturing process, which creates their appearance. As this manufacturing process has been developed more and more over the years, composite looks more and more authentic to timber.
Installation process
The installation processes for each material will differ, as composite material utilises hidden fasteners, whereas wooden boards are drilled directly into. The benefit of installing composite decking is that it creates a more seamless finish without any screws or nails sticking out. Composite is not created to be drilled into, as this will damage the boards by piercing the protective layer of the board, which can cause structural issues down the line. With composite decking, hidden fasteners can be screwed into the subframe below, allowing for thermal expansion.
Staining and scratching
Another difference between wood and composite is the aspect of staining and scratching. Composite decking is much less likely to stain due to its composition of plastic and wood combined. However, it can still stain if not maintained accurately. If you notice an accumulation of dirt or debris on your decking surface, always clean the area immediately to avoid permanent staining. However, when it comes to scratching, it is harder to remove scratches from a composite board. With a wood board, you can just sand the surface to remove the scratch, yet this damages composite materials and should not be used when installing composite.
Thermal expansion
Due to the way composite is manufactured with plastic fibres, it will have a different thermal expansion compared to wood. Composite decking will expand and contract more than wood material due to its composition and should therefore have greater gaps between the boards. When using composite material, you should allow the boards to climatise for at least 48 hours before installation.