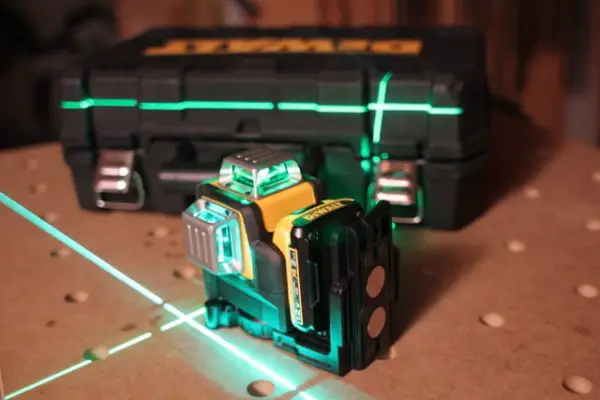 🥇Best Green Laser Level of 2023: Reviews and Buyer's Guide🏆
The 10 Best Green Laser Levels Of 2023: Expert Reviews & Comparisons
If you're tired of dealing with cheap bubble levels or inaccurate red laser levels, it's time to try a green laser level.
Whether you're hanging a picture or drywall, you need to keep things straight. The old bubble levels are not very helpful when you need to keep a line level across 30 meters. With the red lasers, you often struggle to see the line or spot, especially during bright daylight.
So, what green laser level should you get? The top choices include multiple points or lines, mounting clamps, and other useful features not found on traditional levels.
The following options are among the best green laser levels base on their innovative features and sharp green laser beams.
Green Laser Level Buyer Guide
The DeWalt DW0825LG is a five spot and cross line laser that comes equipped with a ceiling clamp, green glasses, a green target mark, a magnet, a 12V battery, and a charger. It's the complete package.
With the DeWalt-DW0825LG, you can also get a straight line in any direction. Use this level to point spots or lines side to side, up, down, forward, vertically, or horizontally. It is one of the most versatile green laser levels available.
It remains accurate within 3 millimeters up to 30 meters, which is also the maximum range for the dots. With lines, you get a range up to 50 feet.
Pros
Self-leveling to help give you straight cross beams
Includes a 12V XR lithium-ion battery, compatible with other DeWalt XR tools
Includes a durable case for storing your green laser level
Provides exceptional accuracy
The heavy-duty exterior can take a beating
Cons
One of the pricier options, but also the top rated
The PLS3 provides three laser lines, allowing you to draw a clear line vertically, horizontally, or at a 90-degree angle.
The self-leveling laser is accurate to 6 millimeters at up to 30 meters, ensuring that you always get a straight line. It is an easy tool to use from one of the most trusted brands.
The only drawback is the plastic exterior. Pacific Laser Systems (PLS) built this level for use on a work site, but it includes plastic housing. While it can withstand a short drop, it can get crushed.
Pros
The green laser lines are clear and easy to see in normal lighting conditions
The laser is self-leveling, ensuring that you get a straight line
The magnetic bracket makes it easy to secure to a variety of surfaces
Provides three times the brightness compared to the previous PLS 3-point laser level
Cons
The plastic housing may crack under impact
If you tend to work outdoors, the HUEPAR 8211G may suit your needs. This level has a durable IP54 rated exterior. The IP54 rating means that it can withstand rain and dust, protecting it from damage when exposed to the elements.
This is another versatile option. It draws dots, cross lines, and 90-degree lines. With the one-button operation, you can quickly switch between these options or select the leveling mode.
The exterior features durable housing that is capable of withstanding damage from drops or impact. Thanks to the tough exterior and reliable accuracy, the 8211G offers a suitable option for professionals or DIYers.
Pros
Affordable price for a professional green laser level
Works well in most lighting conditions, except broad daylight
Includes a variety of settings for more uses around the work site
Comes with a magnetic base, carrying pouch, target plate card, and batteries
Cons
The two AA batteries may not last very long, requiring you to carry a few spares
The HUEPAR 901CG is another self-leveling level with bright green lasers. What sets it apart is the value and accuracy.
It offers the best value for its price range, giving you a 360 degree and cross line green laser with an accuracy of 2 millimeters up to 33 feet. If the device isn't level, a light blinks every three seconds.
As with the previous HUEPAR laser level, this option is also dust resistant and water resistant. While you cannot submerge it in water, it can withstand some rain.
Pros
Features 360-degree laser lines and cross line
The one-button control makes it easy to switch between operating modes
The exterior includes TPR soft rubber for shock resistance and protection against drops
Offers a maximum working range of 130 feet
This is one of the more affordable pro-level green laser levels
Cons
Does not include as many points or lines
The light is not as easy to see in bright daylight
One of the toughest green laser levels, the DeWalt Green Beam Rotary Laser Level provides the durability needed for a construction site. It also provides the range required for professional use.
This DeWalt level is a rotary level, displaying a bright 360-degree beam for straight lines in any direction. It also has a dual-axis slope mode and remains accurate within 1/16-inch up to 100 feet.
The accessories also provide a reason to consider getting this level. It comes equipped with a DeWalt Max 20V lithium-ion battery, compatible with DeWalt Max power tools. You also get a detector that increases the range from 250 feet to 2000 feet.
Pros
Comes with a variety of useful accessories, including a 20V Max DeWalt battery and charger
IP67 rating provides superior water resistance and impact resistance
Class 3R laser delivers a powerful laser beam, allowing you to clearly see the line in almost any setting
Amazing 2000-foot range with detector
Cons
The professional price may put this out of reach for DIYers
This compact rotary laser is fully automatic, displaying a 360-degree horizontal beam or vertical line, depending on how you position the level.
The main highlight is the motorized wall mount. After mounting the level to the wall, you can remotely adjust it to get it accurate when lining up the laser in a difficult to reach area.
As with most of these options, it's self-leveling and produces a bright laser light that you can clearly see in most lighting conditions.
The laser also includes a removable protective cage. You can shield it from potential damage at the work site and avoid needing to replace it prematurely.
Pros
Relatively affordable for a high-quality green laser level
Provides 90-degree plumb, vertical, and horizontal lines
You can set inclinations at 4-degree intervals
The motorized wall mount is helpful in awkward spots
Cons
The variety of buttons makes it difficult to operate the device out of the box
The Johnson Flooring Square Level provides a 90-degree angle for surface layout. Use it to set up straight lines for tile, brick, stone, carpet, and other types of flooring. It can even display clear lines over wet concrete or mastic.
The triangular design allows you to place it in corners or almost any spot. It also features a class IIIa laser, making it a little more powerful compared to most of the other green laser level recommendations.
The only issue you may find is the price. It's a bit expensive, but you're getting a professional-level level. It remains accurate for a long distance and produces exceptionally bright lines that you can clearly see in the daylight.
Pros
Provides one of the easiest solutions for setting up straight lines at a 90-degree angle
Works over any surface and in any lighting conditions
Comes with a three-year manufacturer's warranty against defects
Cons
The cost is a bit steep for basic DIY home projects, but just right for a professional level
While the BOSCH GLL 2 Flooring Square Level serves a specific purpose. It provides perfect 90-degree lines, making it another great choice for flooring.
It is a small level with an adhesive surface for securing to smooth surfaces. The level also features an alignment guide and comes equipped with two bubble vials.
Thanks to the compact size and non-abrasive adhesive bottom, you can easily position it and draw two perpendicular laser lines. The accuracy is decent, remaining precise within 1 inch up to 100 feet.
It uses a red laser, but the price makes it a suitable alternative if you can't afford one of the green laser levels.
Pros
One of the least expensive laser levels available
The convenient design makes it incredibly easy to set 90-degree lines
Includes a push button for securing against surfaces
One-button operation for quick and simple set up
Cons
Not the most durable level available and may get damaged if dropped
The laser lines are not highly visible, especially in bright settings
Uses a red laser instead of a green laser
The HUEPAR Box-1G is a handy little level and another great budget choice. It may not offer the accuracy that professionals require, but it works well enough for DIY projects around the house.
The best feature is the visibility. The bright green lasers remain visible up to 150 feet at full brightness, whether you use it indoors or outdoors. It's also built for outdoor use, due to the rugged exterior.
The level includes two beams – one vertical and one horizontal. You can use it for straight lines from the floor to ceiling or horizontally. With both beams, you can get 90-degree angles.
Pros
Small, portable design makes it easy to carry or store in your toolbox
Rugged design can withstand abuse and still work
Does not draw a strong current, allowing four AA batteries to power it continuously for up to five hours
One-button operation for switching between cross lines, vertical beams, or horizontal beams
Cons
Does not offer the best accuracy
Rounding out the list is the Hammerhead HLCLG0, featuring three laser-line modes. You can quickly switch between level, plumb, and cross line. It produces the beams and lines from the front of the device, making it easy to align materials in any setting.
The bottom includes a smart clamp for a variety of applications. With the 1/4-inch thread on the clamp, you even have the option of mounting it to a camera tripod.
The accuracy isn't great, which makes sense for the price range. It remains accurate within a 1/4-inch up to 30 feet and has self-leveling capabilities within 4 degrees.
Overall, this is another affordable option for those that want the brightness of a green laser level, but can't afford one of the professional-grade levels.
Pros
Affordable price offers a decent value
Use the smart clamp on camera tripods for increased flexibility
Provides three different laser line modes for more versatility
The compact size and front-facing lasers make it easier to position in almost any setting
Cons
Does not offer the best accuracy
Which level should you choose? At the top of the list is the DeWalt DW0825LG. The three-beam green laser level is easy to use, bright, and accurate. It also features a 360-degree mounting clamp and rechargeable 12V XR battery. If you have other DeWalt XR power tools, you can swap out the batteries.
The HUEPAR 901CG provides the best value for a professional-grade green laser level. It offers accuracy, water-resistant housing, and 360-degree rotary lines.
For the best budget choice, try the HUEPAR BOX-1G. It lacks accuracy, but it's inexpensive.
If you don't have the money for a green laser level, consider getting the Bosch Laser Level and Square GTL2. It uses a red laser, but costs a fraction less than the green options.
A laser level is a versatile and essential tool for any construction or renovation project. With the latest advancements in laser technology, the market is flooded with different types of laser levels, including line laser levels, rotary laser levels, and cross line laser levels. While red beam lasers are common, green laser levels are becoming more popular due to their brighter and more visible green light. Whether you're a builder, renovator, or DIY enthusiast, choosing the best green laser level can be a daunting task. We've compiled some of best green laser levels of 2023, each with its unique features, making it easy for you to find the right one for your needs.
Understanding the Different Types of Laser Levels (line laser, self-leveling laser level)
Laser levels are tools used for level and alignment projects. There are three main types of laser levels: line laser, self-leveling laser level, and rotary laser level. Line laser projects a laser beam that produces a straight line on a surface. Self-leveling laser level automatically adjusts to provide a level line on the surface. Rotary laser level projects a rotating laser beam to cover a larger area and is often used for outdoor projects. Red and green laser diodes are used in laser levels, with green being brighter and more visible in daylight. The best laser level for you depends on the task and personal preference. Some features to consider are accuracy, brightness, ease of use, and range.
How To Choose The Best Green Laser Level For Your Needs
When choosing a green laser level, consider the following factors to find the best option for your needs:
Self-leveling: Look for a self-leveling green laser level for ease of use. This feature ensures that the laser line is always level and plumb.





Brightness: Choose a green laser level with a bright green beam of light that is visible in both indoor and outdoor conditions.





Laser line: Consider the number of laser lines you need (e.g., one horizontal line, one vertical line, or a green cross line).





Rotary laser: If you need to cover a large area, consider a green rotary laser level which projects a laser beam through a rotating device.





Battery life: If you plan on using the laser level frequently, look for a green beam laser with rechargeable lithium-ion batteries.





Budget: Determine your budget and consider the best green laser level options within your price range.





Additional features: Look for laser levels that come with additional features like laser detectors and laser enhancement glasses.





Brand reputation: Choose from well-established and reputable brands such as Huepar and Bosch, who offer some of the best green rotary laser levels on the market.





Uses: Consider the specific uses for the laser level, such as construction or DIY projects, to choose the right tool.




By considering these factors, you can choose the best green laser level that fits your needs and budget
Best Green Laser Levels Brands Of 2023
The best green laser levels of 2023 include some of the most advanced and useful tools for builders, DIY-ers, and other professionals. They are easy to use and feature a red laser level tool, green lines, and the best budget options. Vertical lasers, such as the Huepar Self-Leveling Green Laser Level are perfect for those who want to use a laser for more than just basic tasks. It uses smart laser technology that can be used to create three types of laser levels: horizontal, vertical, and cross-line. When shopping for a laser level it's important to consider all the features each model offers so you can get the one that best suits your needs. Whether you need a red beam laser level or prefer using a green beam laser and rechargeable lithium-ion batteries, make sure to consider all the differences between red and green lasers before making your decision. With many top-level models on this list it won't be hard to find the perfect one for your project!
For those who need a top-level rotary laser, Bosch's GRl300HVG Green Rotary Laser Level is perfect. It has one of the brightest points for a laser level and its two-plane structure helps create an intermediate two-plane green laser level that can be used on various surfaces. If you're looking for something more basic, Fire Up The Laser Level offers their Basic Green Laser Level Model which is perfect for those who only need a basic set up without all the bells and whistles of more advanced models. No matter what your needs are when it comes to choosing the best green laser level of 2023, these brands have something to fit everyone's needs.
Conclusion
In conclusion, a green laser level is a must-have tool for builders in today's construction industry. Not only does it provide improved visibility and accuracy compared to traditional red lasers, but it also saves time and effort in ensuring level surfaces. When choosing the best green laser level, it's important to consider factors such as range, accuracy, and ease of use.
Getting the right laser level can make a huge difference in the quality of your work, and with so many options on the market, it can be tough to know which one to choose. That's why it's important to go for a top-level rotary laser that exclusively focuses on laser levels to ensure you get the best one for your needs. So if you're looking to improve your building accuracy, invest in a green laser level today and get a level you can trust.
Frequently Asked Question (FAQs)
If you've still got questions about Best green laser level then these may help:
What Is The Best Laser Level For Landscaping?
When looking for the best laser level for landscaping, it is important to consider the features and uses of the laser level. Many laser levels come with green line lasers that are perfect for use in outdoor spaces. A green rotary laser level model such as the Bosch GRL300HVG Green Rotary Laser can be a great choice for landscaping. This laser level uses laser diodes which consume more energy than other types of lasers, but it is still highly accurate and reliable. It also includes features like rotary heads, digital readouts and accuracy of up to 1/16th of an inch. This makes it easy to get a precise level and get a job done quickly and efficiently. If you already know what a laser level is and how it works, then this is the perfect choice for you. Get the laser level you need and make sure your landscaping projects are done with precision.
What Are Best Budget Laser Level
 A laser level provides you with the best accuracy possible when it comes to doing any kind of leveling work. When choosing the best budget laser level, there are a few things to consider such as its features and how much energy it consumes. Modern laser levels use lasers which are perfect for accurate positioning, however, these lasers consume more energy than traditional levels do. Fortunately, there are green rotary lasers available which are incredibly energy efficient and perfect for those on a budget. Using a top-level rotary laser can help get your level and plumb lines perfectly accurate for whatever job you're doing. Not only does it save time but also money in the long run by getting your jobs done correctly the first time around. So if you're looking for a laser level that won't break the bank yet still provides accurate results, then look no further than the best budget laser level.
Which Self-Leveling Laser Is The Best?
When choosing the best self-leveling laser, there are a few factors to consider. Firstly, you need to decide which type of laser level is most suitable for your project. A traditional manual laser level is a great option if you plan to use it for basic jobs. However, if you're looking for a more accurate and reliable tool, then a self-leveling laser may be the better choice. Common features of these lasers include accuracy and portability, as well as the ability to adjust the beam strength and angle. For even more precision, a green rotary laser is perfect for levelling large areas or ceilings with ease and accuracy. Laser diodes consume more energy than traditional lasers so bear this in mind when you're deciding which level is right for you. With all this information in mind, it's easy to choose the best self-leveling laser for your needs both quickly and accurately – just make sure that you get a good quality one with all the features you need.
What Is The Difference Between 520 Nm And 532nm Laser?
The difference between 520 nm and 532nm laser is that the wavelength of light emitted by the lasers. The 520 nm laser emits light with a wavelength of 520 nanometers, while the 532nm laser emits light at a wavelength of 532 nanometers. A laser level is necessary for most construction work, as it provides an accurate way to measure distances and levels with precision. When choosing a laser level, it's important to consider what features you need. Some laser levels feature just one beam while others have multiple beams or rotating heads which allow you to make measurements in more than one direction at once. You also need to consider if you need a regular line level or a rotary level which can measure angles in addition to distances. By considering your specific needs, you can choose the best laser level for your project and get a level of accuracy you won't be able to achieve without it.
What Green Laser Does The Military Use?
Green lasers are used by the military for a variety of purposes. These lasers can be used as pointers and designators, allowing troops to identify targets with precision. They are also used for night vision, providing troops with enhanced visibility in low light conditions. In addition, green lasers are used in some weapons systems to track targets and guide munitions to their intended destination. Green laser technology is extremely important for the military because it gives them an advantage over their adversaries. The high-powered beams allow them to accurately identify and engage targets from a greater distance than traditional sighting systems. Furthermore, green laser technology helps minimize collateral damage and makes operations more efficient and effective.