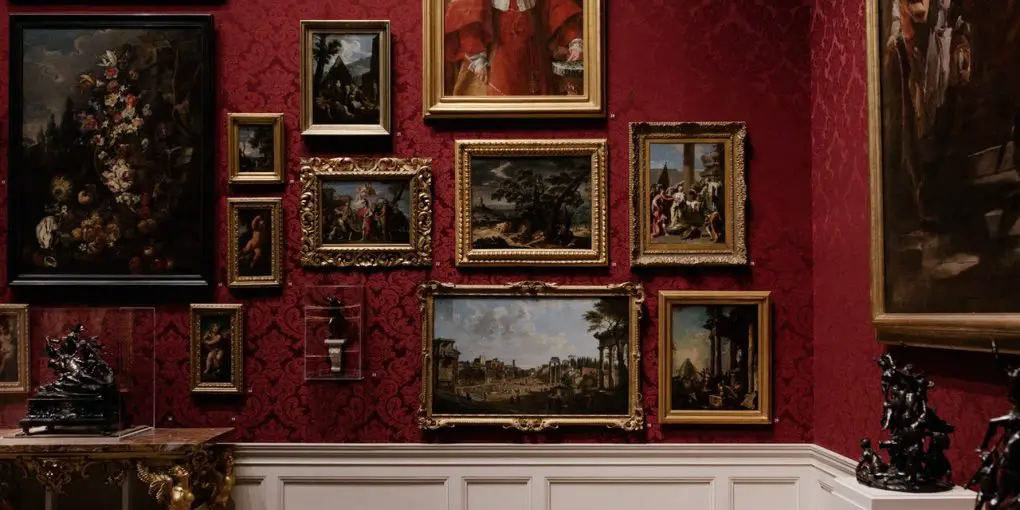 7 Tips for Decorating your Living Room with Fine Art
Disclaimer: There are affiliate links in this post. At no cost to you, I get commissions for purchases made through links in this post.
Buying fine art for your living room is an excellent way to give it more personality. However, you may not know where you want to put the art. If you're struggling, you're not alone! Many people feel overwhelmed when decorating their living room for the first time. 
If that sounds like you, you'll want to brush up on these seven tips! We made sure to cover everything you'll need to know, so stick around!
1. Hang Art Above the Couch
Most living rooms have a lounge area consisting of a sofa or other seating. Many designers like to hang their fine art on the wall behind the couch. Doing so creates a pleasant focal point in the room and allows them to show off their unique artwork!
You'll need to make sure you don't place the art too high on the wall. It should be at eye level. However, since people usually sit down in living rooms, lowering the art is best. There's an easy trick to get your fine art in the perfect place every time!
If your sofa is against the wall, use your hand to measure. You want to hang the painting about one hand width above the furniture. This method is best if you don't have any measuring tools.
2. Create a Group Arrangement
You can also try creating a group arrangement if you have multiple pieces of fine art you want to display. You must keep a visual balance when hanging numerous articles on the wall. Plus, you'll need to keep in mind that gallery walls always turn into the room's focal point.
Our eyes tend to start on the left and travel towards the right when viewing art. Gallery walls feel the most natural when they have the most eye-catching pieces on the left. You also will want to arrange differently sized works with balance in mind.
Overall, it helps to sketch out a plan when creating your wall. It doesn't have to be fancy- using simple rectangles to represent the paintings works well! You can also move the artwork on your wall until you find a satisfying balance.
Lastly, make sure you consider the color palettes too. The works should have a strong theme between them.
3. Use Plenty of Surfaces
You can also use plenty of surfaces to display your art in the living room. For example, furniture and shelves are perfect! Sculptures look great on them, and you can pair them with flowers and other fine art.
Propping paintings up against the wall while sitting on a shelf is perfect for displaying art. It makes the living room feel more casual and comfortable. Plus, you won't feel stuck with just one display arrangement- it's easy to swap out and move art sitting on a shelf!
If you decide to use this tip, make sure you also consider the shelves in your arrangement. You can choose solid white or black frames to make the art stand out more. However, you can also select shelves that match your themes.
4. Try Using Odd Numbers
When arranging art in the living room, you'll want to use odd numbers. Displaying artwork gives it a finished look and keeps the balance. 
Plus, odd numbers are naturally more appealing to people. With even numbers, you get symmetry, which doesn't stand out very much. Odd numbers create more visual interest and draw attention to fine art without being overbearing. 
The number three is the best odd number to use when displaying fine art! If you have a series, you'll want to display the pieces together. 
This tip also applies to 3D objects. You can arrange sculptures and pottery on any surface in the living room.
5. Put Art in Open Spaces
You likely have more open space in your living room than you realize at first! We often ignore small gaps in the wall, but these blank areas can be the best places to hang fine art.
Look for open areas between windows, doorways, and even furniture. You'll find plenty of wall space to work with, even in small living rooms. 
You'll need to make sure the fine art is the proper size for the wall space. It should still have some space around it, so the area doesn't feel too crowded. 
Overall, filling in some open areas in the living room can make it feel complete!
6. Add More Light
Next, you can also shine a light on your favorite pieces to make them stand out even more. A subtle light can even make the image easier to admire.
If you have art hanging on the wall, you can place an extra spotlight over it. Make sure the light doesn't come from the floor for the best effect for sculptures.
Lighting is everything when displaying your favorite art pieces! It's also an easy addition to any living room. These types of lights are small and easy to install.
7. Use a Bold Accent Wall
Accent walls are a different color than the rest of your living room. If you display art against one, you can use bold paint to make the art stand out! You'll want to contrast the piece's palette for the best effect.
Accent walls can also include texture, multiple colors, and designs. Before painting your living room, you'll want to know what art you'll be displaying. That way, you can choose the best accent color.
Rich, deep walls make light art stand out more, while lighter walls are best for darker art. Overall, accent walls are a fun addition to any living room and are perfect for showing fine art!
Get Creative
In short, you'll want to get creative with how you decorate your living room. You can always move the fine art again later if you don't like how it looks, so don't hesitate to experiment! 
Everyone's home is unique, so your options for displaying fine art will be different from others. Only you can choose what you love the most!