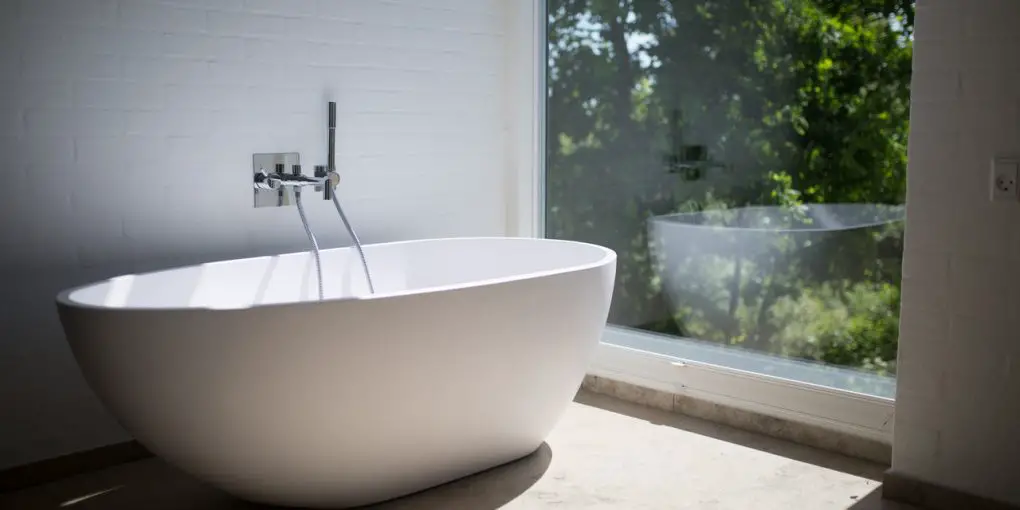 Tips and Tricks to Make a Small Bathroom Seem Larger
For many homeowners, the bathroom can be a real bone of contention in the space. All too often, homeowners find the space given in this room is just not adequate, and that everything ends up feeling squished and unorganised in the space. And while it's not a room you spend a lot of space in and worry about entertaining in, it's still nice to feel that relaxing spa-like vibe when you step in the bathroom. A welcoming space wherein you're able to store all the essentials and not have it look like a disaster is what you're after.
So, what happens if you're dealing with a particularly small bathroom space and you don't have the budget or desire to expand it and make it larger? Is there a way to fool the eye into making it seem bigger than it actually is? The good news is that there are lots of tricks and tips the pros use, and that you can easily incorporate into the space. Let's take a closer look.
Take Full Advantage of a Large Mirror
One of the most popular tricks that designers use in the home is to install a large mirror. The bathroom is no exception, and a large mirror can actually serve a very functional purpose in this room since you will likely be getting dressed and ready for the day in there.
Mirrors help to brighten up a space, reflect the light, and just give the illusion of space. In terms of size, you want to go as big as the space will allow. Don't be afraid to span an entire wall with a mirror.
Install a Glass Shower Screen
Another tip is to install glass shower screens, such as the ones available through Glazewell. Glazewell's glass shower screen ensures the line of sight isn't interrupted, and the space just seems to flow rather than being cut off by the standard shower door. These shower screens are both elegant and modern, and unlike many of the other models on the market, Glazewell is able to install theirs with very little visible gaps. It's a truly spectacular end result.
These shower screens are also great when you're actually in the shower in order to ensure the space is bright at all times. You won't have to worry about the interior of your shower seeming dark and closed in – again, tricking your mind into making it seem like a larger space.
Now, keep in mind that you need to have the proper requirements in order to install one of these types of doors or screens, so it's best to speak to the professionals if this is something you're considering. There is also the opportunity to choose from semi-frameless which has a very small amount of framing, or completely frameless, which almost gives the illusion of a floating shower screen.
Boost the Natural Light in the Room
Following along that same pattern of creating light in the space, you want to allow as much natural light as possible in the bathroom. This means installing window coverings that can be opened up when you want in order to let that light in. This is also the reason so many people install skylights in the bathroom, as they still allow for privacy and yet light is always shining in.
Ensure You Have Enough Storage
Now it's time to address the clutter in the bathroom, which takes up valuable space and leaves the room feeling completely disorganised. Here's where it can be wise to invest money in custom pieces if necessary. The goal is to give every item its own spot so that counters can remain clear and empty, and that there aren't just piles and 'stuff' lying around.
Because bathroom organisation is such a hot topic, you'll find no shortage of storage solutions. Don't be afraid to experiment with a few different items, whatever fits and makes sense in the space.
Choose a Light and Bright Paint Colour
Paint colour can also trick the eye quite a bit, and by choosing a light and bright shade, you'll be adding a sense of openness, brightness, and even a little cheerfulness to the space. Popular paint colours include white, pastel shades such as light blue, green, lilac, or yellow, and sticking to a neutral or beachy soft colour palette.
Follow the Colour Palette Right into Flooring
Once you pick a colour palette for the bathroom, don't forget to also follow up with the flooring. It's about creating flow without interruptions to the design. When you choose a light bright floor, you won't have that jarring connection between the walls and flooring. Instead, it just looks like everything keeps going.
The Spacious, Bright, and Organised Bathroom of Your Dreams
By using each of these tips to tackle your bathroom, you'll be able to turn that small space into one that seems spacious, bright, and organised.