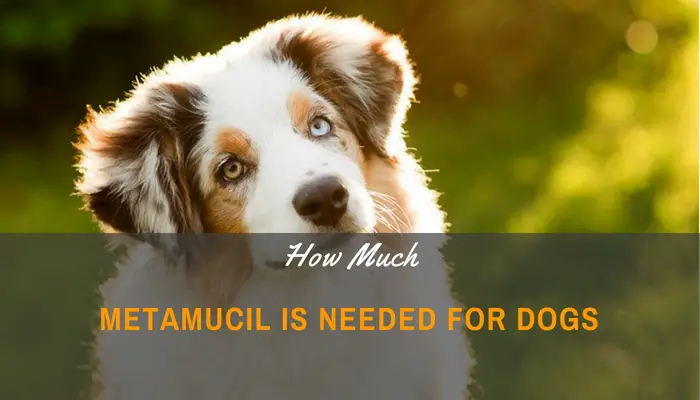 How Much Metamucil Is Needed For Dogs?
Is your dog struggling with constipation?
This is a common concern among dog owners and it's hard to get rid of without an appropriate solution. This is where Metamucil comes into the equation as a tangible form of fiber to get rid of the issue.
Let's take a look at Metamucil, its benefits, and how to use it correctly.
What Is Metamucil?
Metamucil is a specifically designed fiber aimed at treating conditions such as constipation. It has also been noted as a world-class option for treating and/or reducing cholesterol. Please note, it should be taken every day for maximum results when it pertains to cholesterol.
In general, Metamucil also goes by the name "psyllium because it is derived from the psyllium plant (seed husks).
The premise of Metamucil is to act as a bulk-forming fiber and that means it gets into the intestines and begins to absorb the liquid. This causes a dog's stool to become bulkier and easier to pass through the digestive system.
It was in the year 1934 when Metamucil was launched as a treatment option for constipation. It has grown over time and become the leading provider of fiber for dogs.
Metamucil can be found in various forms such as a powdered drink, wafers, or capsules. You are also able to choose between various flavorings such as pink lemonade, orange, and berry (unflavored options are available too!).
Dosage
How much should you be giving to your dog for meaningful results?
In general, Metamucil should be given at a set dose of 1 teaspoon per day but this is dependent upon the dog's size/breed. You should be speaking to a vet before looking into this but in most cases, 1/2 teaspoon every 12 hours will yield positive results.
Points To Note
Speak to a Vet
Wait 12-72 Hours To Monitor Results
Give With Water
Don't Rapidly Increase the Dose
Continue to monitor the dog and pay attention to his/her stools. This is a great way to see whether or not the Metamucil dose is working as it is supposed to. Please note, this should be mixed in with water as that's the best way to take it. Also, you shouldn't continue to increase the dosage indefinitely as that is a great way to harm the dog and cause unrelenting diarrhea.
Benefits of Metamucil
Let's move onto the benefits of using Metamucil and why it is highly regarded as being a quality solution for treating constipation in dogs.
1. Tested
It is a well-tested solution that has been used for a long time (since 1934!) and that illustrates how potent it is. In fact, it is used by humans and that was the original purpose of Metamucil. It is a bulk-forming fiber and it does a great job for humans and dogs.
You'll know this has been well-researched and isn't a random treatment without purpose.
As long as you're using this, it is going to bring in good results and you'll feel confident about its impact. This is a solution anyone can rely on and know it will work out.
2. Fast-Acting
It is one thing to go out and use fiber and another to know it will work quickly.
If your dog is sluggish and seems to be struggling with constipation then you will need to act quickly. This means you will need to take a look at something that's rapid such as Metamucil. Metamucil has been known to get rid of the issue in less than 2-3 days.
Yes, it is that fast, which is why it is such a great solution in the modern age of medicine. The dog will start to find relief faster than expected.
3. Safe
There is never a good reason to go out and find a risky solution for constipation.
If the dog is already in discomfort then you will need to find a meaningful treatment such as Metamucil. This has been well-tested and is going to keep your dog out of harm's way. Anything else is simply a risk not worth taking when there's such a high-quality option ready to go. You'll feel confident with this in hand.
4. Easy for the Dog To Consume
Another benefit is knowing the dog will have no trouble consuming the fiber.
He/she is going to take it with water and you will be able to go with various flavors based on what's desirable to the dog. For example, you can play around with a flavor such as orange, berry or even go with the unflavored variation.
Each choice has its merits and that's why dog owners feel good about putting it to use as a fiber-based solution.
The dog isn't going to hesitate and that's ideal in a situation such as this where treatment is mandatory. If you're unable to get the dog to eat, you're not going to see results and that's why Metamucil is a world-class solution.
Dietary Changes
Along with the Metamucil, you will also need to take a look at potential dietary changes for your dog.
It's okay to use this bulk-forming fiber to ease constipation but that's only a part of the solution. You also need to take a look at what will be done to prevent future issues. The only way to do this is with a mandatory change to the diet plan.
The diet plan should include:
Canned Pumpkin
Wheat Bran
Consistent Dose of Metamucil
Any Other Form of Healthy Fiber
Take note of these options and include them in the dog's diet as soon as you can. It's the only way to stay on top of this as a proactive dog owner.
Metamucil is a power-packed solution and an ideal form of fiber when it comes to a dog in need. You don't want to go ahead and waste time on solutions that are ineffective, unsafe, or a combination of both! Instead, stick to a powerful and proven option such as Metamucil for immediate results. It will make the dog's life easier and is a most for his/her health.