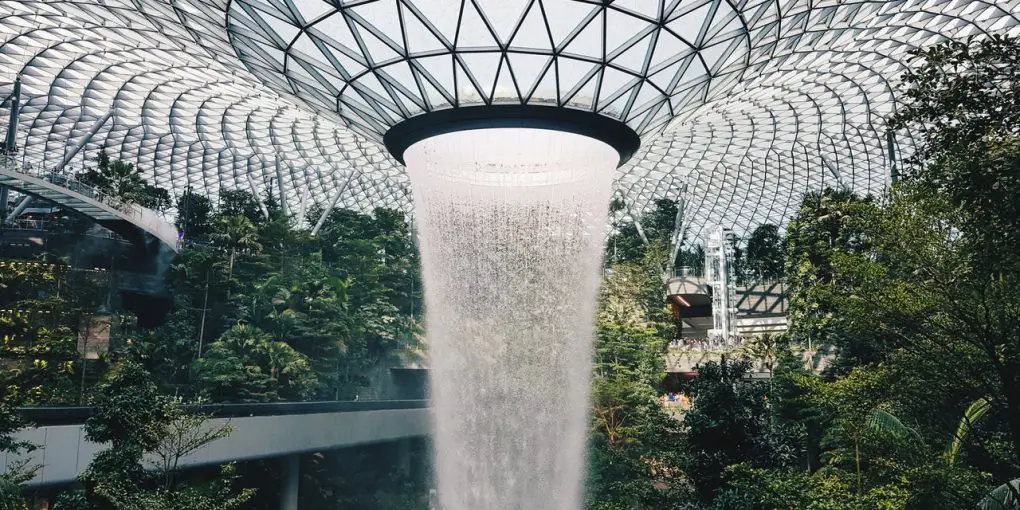 Impress Your House Guests With These Creative Backyard Fountain & Waterfall Ideas
Long ago it was established that beautiful aquatic craftsmanship combined with growing healthy and green plants, could inspire the imagination of the world and take it to new heights. Water has always been the symbol of health and prosperity, and its presence in nature has a very calming influence on everyone when experiencing the great outdoors. 
Adding a beautiful water fountain to your backyard or commercial property can bring the power of peace and prosperity into your daily life. Better yet, utilizing the tranquility of a water feature can greatly improve the feel of your property for when your family, guests, and customers visit. 
Add water lilies, water hyacinths, or similar to your fountain and you've set yourself up for a beautiful water garden fountain. 
Water Wall or Spillway
When light is in motion is it very eye-catching. That principle, when combined with the mastery and prosperity of controlling water makes this is a very appealing concept. A water wall is basically a fountain that has a wide horizontal opening which results in water forming a type of curtain as it is pouring over the edge. This simple design requires minimal water fountain repairs and maintenance.  
A nice added touch is placing your pool and water wall fountain on a wood surface. Wooden floors have a similar effect that greenery does. It is a great way of maintaining a connection with nature but instead having an indoor fountain or similar. 
Bubbling Pondless Fountains
These are great for commercial and residential properties on a budget. They usually come as a kit, and most landscape companies can install these as they are rather simple to construct. The only issue with Rock Column fountains is if you develop a leak in the liner, you'll need to dig the entire water feature out to patch or replace the fountain liner. The cost of these water features can range from $1,500 alone for the kit depending on what size you get, while labor and additional landscape items could add up close to $2,500 - $5,000 pretty easily. Fortunately, once this type of water feature is constructed, the power, water, and maintenance should all be at a minimum compared to other fountains. 
Natural Rock Pond-less Waterfalls
Speaking of nature, if you are in a natural fountain or waterfall, you might as well do it with natural tones and real rock. It's as simple as visiting the local landscape rock supply, picking out some large and small boulders + any other stone you'd like to add like a retaining wall brick if you plan on building against your backyard wall. 
Pondless waterfalls are similar to the other fountains we've mentioned as they require less electricity, water, and maintenance compared to other types of fountains and waterfalls. Although the same issues arise if a leak develops, you must breakdown the water feature entirely to find and repair the leak. Pro Tip - When building any fountain or waterfall on your property, you'll want to make sure the vegetation surrounding the water features are not invasive as certain plants tend to reach out to local water sources more than others. If you live in a Southern California city like Orange County or Los Angeles, Eucalyptus trees are very common, and are also not ideal to have near a water feature of any sort. 
Tiered Water Fountain Spouts
These can be built pond-less or integrated into any pond or lake. As long as there is a shelf in the water feature, a sump (submersible pump) is added to the lowest part of the fountain or basin. Similar to the previous water features listed on this article, these can be very inexpensive to install compared to traditional fountain and ponds. It's only a matter of buying the kit, and consulting with a local pond or fountain company if you feel unsure of yourself. There are tons of You Tube videos as well on installation of waterfalls, pond-less fountains, koi ponds, and much more.